Delta Green
Monday 22 December 2014
In late December 2014 a group of Covert Operatives resurrected our April 2014 Delta Green Bundle, the spectacular tabletop roleplaying game setting of modern-day Cthulhu Mythos conspiracy-horror. Inspired by the success of Delta Green fiction on Kickstarter and DG co-creator Dennis Detwiller's Patreon campaign to create new Delta Green material, we've de-quarantined this comprehensive collection of DRM-free, non-watermarked .PDFs—everything you need (actually, close to everything there is!) for a complete Delta Green campaign.
Our starter collection included these titles (retail value $40):
Delta Green (retail price $20): Originally a sourcebook bringing Call of Cthulhu into the modern era, Delta Green quickly became its own game—and a fan favorite. DG's compelling mix of conspiracies, UFOs, intelligence tactics, and Mythos terror has brought it unsurpassed praise. Ranked #2 on the RPG.net Game Index for seven years! (What's #1? Keep reading.)
Delta Green: Eyes Only (retail $15): Learn how the Mi-Go have shaped the American government for decades; get an in-depth look at the occult underground group The Fate; and discover the Mythos connection to the Philadelphia Experiment.
Dark Theatres and PX Poker Night: An anthology of Delta Green fiction and an ideal introductory scenario.
NEW in this collection! Strange Authorities: The DG novel by John Tynes, originally presented in our May 2013 Bundle of Holding +3. (If you purchased this DG Bundle during its original run, you received Strange Authorities automatically.)
And those who paid more than the threshold price got five bonus titles, including two RPG supplements, a collection of short fiction, and two Delta Green novels: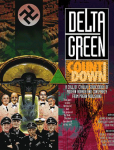 Delta Green: Countdown (retail $20): A HUGE (over 400 pages) roleplaying supplement that digs deep into the twisted apocalypse of the 21st Century. The RPG.net Game Index has ranked Countdown #1 for seven years straight.
Delta Green: Targets of Opportunity (retail $20): New rules, tips, and agencies, including the Canadian M-Epic, Disciples of the Worm, and Nyarlathotep's Cult of Transcendence.
Alien Intelligence (retail $5): An anthology of eight stories exploring the Delta Green setting as the 20th Century churns bloodily to a close.
Denied to the Enemy (retail $1, yes $1) by DG co-designer Dennis Detwiller: A heady mix of the Mythos and World War II, where the Nazi occult division Karotechia find the legendary city of Thule.
Through a Glass, Darkly (retail $10) by Dennis Detwiller: In 2001, two Delta Green agents investigate a miracle that quickly leads to secrets and terrors at the heart of reality itself.
As always, Bundle of Holding titles are DRM-free. What's more, Delta Green .PDFs on DriveThruRPG are usually watermarked, but ours aren't! Take that, Nyarlathotep!