Fantasy Frontiers – not your usual medieval Europe
Tuesday 7 July 2015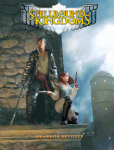 In July 2015 we presented Fantasy Frontiers, a new collection of tabletop fantasy roleplaying games and campaigns that take you to exotic cultures and unusual times. Drawing from myths of many lands, eras of high intrigue, and even modern medicine, these games explore the far boundaries of fantasy RPG settings. This collection visited Scandinavia, India, Egypt, Africa, and points further afield. And we brought back Allen Turner's Ehdrigohr, a Fate-system RPG (originally presented in the September 2013 Bundle of Fate) that recently drew high praise from Boing Boing.
Our Starter Collection included three titles (retail value $30) as DRM-free .PDF ebooks:
Spears of the Dawn (retail $10): Stars Without Number designer Kevin Crawford created this old-school sandbox game based on African cultures and folklore.
Castles & Chemo (retail $10): A remarkable D&D 4e/Pathfinder adventure inspired by a cancer survivor's chemotherapy.
Ehdrigohr (retail price $10): High heroics, powerful magic, and survival horror in the style of Native American Lakota myth.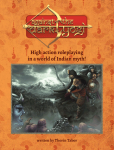 Customers who paid more than the threshold price also received our huge Bonus Collection of six more titles (retail value $98):
Spellbound Kingdoms (retail $10): Dark Renaissance fantasy where fashionable garb can take you further than a sharp rapier.
Yggdrasill – The Lands of the North (retail $25): Scandinavian sagas power this complete RPG from Cubicle 7 Entertainment and the designers of Qin: The Warring States.
Against the Dark Yogi (retail $15): Epic high-action dueling and mass battles in a land out of Hindu mythology.
Egyptian Adventures – Hamunaptra (retail $24): Green Ronin's massive D&D 3.x setting, the fantastic desert kingdom of Khoti.
Parsantium – City at the Crossroads (retail $12): A cosmopolitan melting-pot city, based on Byzantium, where trade routes meet and great cultures collide.
City of Clocks (retail $12.50): A weird and wonderful industrial-fantasy metropolis on the brink of calamitous change.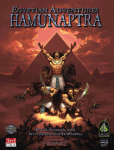 A griot in the marketplace willing to take your weird foreign money for this collection would charge you $128 retail. Ten percent of all payments (after gateway fees) went to this offer's designated charity — one particularly dear to the designer of Castles & Chemo — the American Cancer Society.