Bundle of Tentacles +3 – a SAN-shattering Mythos offering
Tuesday 27 October 2015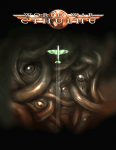 In October 2015 we summoned through unspeakable ritual the
Bundle of Tentacles +3,
the third all-new offering in one of our popular "October Horrors" series. Every Bundle of Tentacles is a big rugose collection of eldritch RPG tomes inspired by HP Lovecraft's Cthulhu Mythos. With mind-wrenching supplements and scenarios from
Cubicle 7 Entertainment, Golden Goblin Press,
and more, this new collection was rugose-er, more eldritchian than ever.
Our
Starter Collection
included
four
titles (retail value
$37
) as DRM-free .PDF ebooks:
Island of Ignorance – The Third Cthulhu Companion (Golden Goblin Press, retail price $15): Five scenarios and eight articles for classic 1920s-era Call of Cthulhu.
Age of Cthulhu: The Long Reach of Evil (Goodman Games, retail $7): A globe-trotting series of investigations in Peru, Sumatra, and Tibet.
Cthulhu Live! LARP 3rd Edition (Skirmisher Publishing, retail $10): The current edition of the classic rules set for live-action Cthulhoid roleplaying. This is our first-ever live-action offering.
Mythos Society Guide to New England (Skirmisher, retail $5): A travel guide with all the bizarre and esoteric history you'll never find in Fodor's.
Those who paid more than the threshold (average) price
rose in Mythos lore
(and who wouldn't want that, right?) and
also
got our entire
Bonus Collection
with
five
more supplements and scenarios (retail value
$70):
World War Cthulhu: The Darkest Hour (Cubicle 7, retail $20) and Europe Ablaze (retail $18): In World War II Britain, covert missions against the Nazis are just your cover for really secret missions against Mythos entities.
Tales of the Crescent City (Golden Goblin Press, retail $18): A huge collection of scenarios and articles about the Mythos in Jazz Age New Orleans.
Age of Cthulhu: A Dream of Japan (Goodman Games, retail $6): Tracking a creepy extradimensional entity in Japan's even creepier Forest of Suicides.
NEW! Soth (Steve Hickey Games, retail $8): Amateur cultists in small-town America try to summon their dark god without spooking the neighbors.
To pass up this total retail value of
US$98
would be
insane!