Mongoose Traveller
by Bundle Operator
Monday 18 April 2016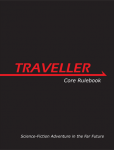 In April 2016 we presented the
Mongoose Traveller Bundle
, featuring the First Edition
Traveller
tabletop roleplaying game line from
Mongoose Publishing
. Based on the Classic
Traveller
rules set, Mongoose
Traveller
is streamlined and updated for the 21st Century. This bargain-priced offer included
everything you need
for a complete campaign in
Traveller
's Third Imperium galactic empire or your own spacefaring setting.
Our
Starter Collection
included  
three
titles (retail value
$63)
as DRM-free .PDF ebooks:
Traveller First Edition ($24): The complete 192-page SFRPG (2008) that underpins many Mongoose settings, including…
The Spinward Marches ($18): The famous sector at the frontier of the Third Imperium, setting for more Traveller adventures than any other.
Central Supply Catalogue ($21): The comprehensive 192-page equipment guide for adventurers with credits to burn.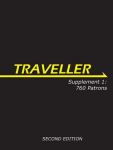 Those who paid more than the threshold (average) price
got promoted
and
also
got our entire
Bonus Collection
of
six
more supplements and adventures (retail value
$114):
Book 1: Mercenary Second Edition ($15): The revised 2014 guide to the gritty life of the hired gun.
Book 2: High Guard ($15): Space navies, their people and ships, and expanded rules for ship construction and space combat.
Beltstrike ($15): A complete campaign set in a hazardous asteroid belt that fits anywhere in the Third Imperium or your own campaign.
760 Patrons Second Edition ($30): The thoroughly revised 410-page collection of employers and mission-givers for adventurers across the Imperium.
NEW! Prison Planet (retail $15): The always-useful (and reusable!) adventure for player characters who got caught.
NEWER! Secrets of the Ancients (retail $24): A huge campaign by Gareth Hanrahan that explores the deepest secrets of the Traveller setting.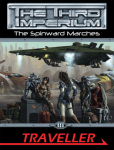 That's a stellar
US$177
value, a High Passage collection for a Low Passage fare. Ten percent of eachpayment (after gateway fees) went to this offer's designated charity, the
Electronic Frontier Foundation
.