Mutant Chronicles – dieselpunk techno-fantasy
Tuesday 27 June 2017
In June 2017 we presented the
Mutant Chronicles Bundle
, featuring the 2015 Third Edition of
Mutant Chronicles
, the dieselpunk techno-fantasy RPG of future darkness from
Modiphius Entertainment
.
Mutant Chronicles
3E is a thrill ride across a Solar System beset by megacorporate intrigue and the invasion of a terrible alien force.
Originally published in 1993 by the Swedish company
Target Games
(now Paradox Entertainment),
Mutant Chronicles
grew into a franchise, with a
Doom Trooper trading card game
, three boardgames, a video game, the massive
Warzone
miniatures game, and two editions of an RPG. More recently there was a
2008 film
, a pre-painted miniatures game from Fantasy Flight Games and, last year, a reboot of
Warzone
by Prodos Games.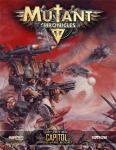 In a successful
January 2014 Kickstarter campaign
,
Modiphius Entertainment
funded a licensed Third Edition of the
Mutant Chronicles
RPG and a full support line. The new version uses a fast-playing, cinematic "2d20" system designed by
Jay Little
(
Star Wars: Edge of the Empire
). The same system powers the new Modiphius
Conan RPG
and its forthcoming
Star Trek RPG
.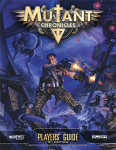 There were 
four
titles in our
Starter Collection
(retail value
$52)
, including the complete 496-page
Mutant Chronicles Third Edition rulebook
(retail price $20), the
Mutant Chronicles Player's Guide
extracted from it (retail $10), and two faction books about the megacorporate nation-states of the Solar System:
Capitol Source Book
(retail $9.50) and
Imperial Source Book
(retail $12.50).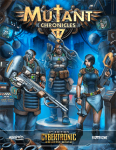 Those who paid more than the threshold (average) price 
also
got our entire
Bonus Collection
with
six
more titles worth an additional
$72,
including the
Dark Symmetry Campaign
(retail $15) that covers the setting's calamitous early history, and the
Bauhaus, Mishima, Cybertronic,
and
Brotherhood Source Books
(retail $13 apiece). And we've
newly added
the
Mutant Chronicles Gamemaster Screen
(retail $5),with useful reference charts and a 16-page "Intrigue Initator" that generates adventures automatically.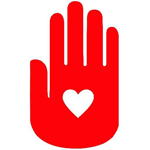 Ten percent of each payment (after gateway fees) went to the charity chosen by Chris Birch of Modiphius Entertainment,
Vision Rescue
. "Modiphius has chosen to support Vision Rescue through a number of different projects," says Chris. "There are currently 300,000 children living on the streets of Mumbai, India, and it is estimated only 15,000 of these children receive any kind of care. Our goal is to raise US$20,000 for a Vision Rescue Bus."