Numenera – TWO offers
Tuesday 25 July 2017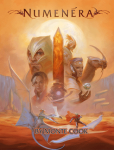 In August 2017 we fast-forwarded a billion years to present
two
offers featuring
Numenera
, the science-fantasy RPG from
Monte Cook Games
about Earth in the
faaar
future. First, we revived (for a second time) the May 2014
Numenera Bundle
, with the core rulebook and early supplements. An all-new companion offer joined the revival: 
Numenera +2 – Ninth World Discovery
, with most of the line's recent supplements.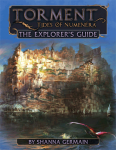 A billion years in the future, eight civilizations have come and gone; we ourselves were the first, or maybe pre-first. In
Numenera
by
Monte Cook
(co-designer of
Dungeons & Dragons
3.0 and designer of
Ptolus
), characters explore the Ninth World to find leftover artifacts of nanotechnology, the datasphere, bio-engineered creatures, and myriad strange devices that defy understanding. The inspiration for the recent
Torment: Tides of Numenera
computer game from inXile Entertainment,
Numenera
is about discovering the wonders of the prior worlds to improve the present and build a future.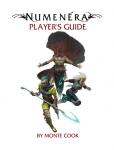 Numenera
hit the scene as the RPG field's first Kickstarter mega-success. In August 2012 Monte Cook asked for $20,000 to publish his SF/fantasy hybrid RPG. On Day 1, patrons pledged more than $40,000. In one month the
Numenera Kickstarter
garnered $517,000, setting a record for tabletop RPGs. Since then Monte Cook Games has become possibly the most adroit crowdfunder in tabletop RPGs, having run successful campaigns for
The Strange, Invisible Sun, No Thank You Evil!,
and — twice more —
Numenera
.
Numenera
's
Cypher System
rules are flexible yet streamlined and intuitive. A single d20 roll decides success or failure, and the number of modifiers is limited. Players can spend Effort to lower a roll's difficulty. They earn experience points by making new discoveries or when the GM introduces new complications, and players and also award experience to each other for good roleplaying.
1. Numenera Bundle [revived from May 2014]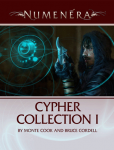 This first
Numenera
Bundle, originally presented in May 2014 and revived that December, included the complete 418-page
Numenera core rulebook
and many early supplements. There were 
three
titles in this offer's
Starter Collection
(retail value
$25)
as DRM-free .PDF ebooks, including the rulebook, the
Gamemaster's Screen
, and
Cypher Collection 1.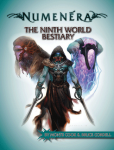 Those who paid more than this offer's threshold (average) price 
also
got this offer's entire
Bonus Collection
with
six
more titles worth an additional
$45:
2. Numenera +2 – Ninth World Discovery [all-new]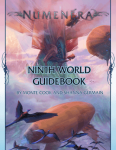 Monte Cook Games funded an entire new line of
Numenera
supplements with its spectacular
August 2015 Into the Ninth World Kickstarter campaign
. This new companion offer presented many of those ebooks. There were 
five
titles in this offer's
Starter Collection
(retail value
$47)
, including
Numenera Character Options,
the
Ninth World Guidebook,
the
Technology Compendium,
and
Maps of the Ninth World 1
and
Maps of the Ninth World 2
.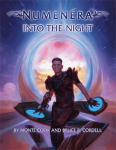 This offer's
Bonus Collection
presented 
seven
more titles worth an additional
$67:
Ten percent of each payment (after gateway fees) went to these offers' designated charity,
Human Rights Watch
.
Numenera resources