Feng Shui 2 – all-new kickass movie action
Monday 2 April 2018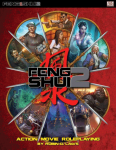 In April 2018 we presented the
Feng Shui 2 Bundle
featuring the 2015 Second Edition of Hong Kong movie action RPG
Feng Shui
from
Atlas Games
. Designed by
Robin D. Laws
(
Cthulhu Confidential, Hillfolk,
GUMSHOE),
Feng Shui 2
hits you with ancient sorcerers, transformed animals, control-freak Shaolin monks, and cyborg apes. Armed with the secrets of feng shui, they aim to conquer the past, present, and future. Only you have the guts, guns, and flying feet to stop them.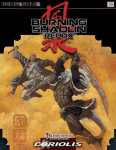 Leap off buildings, sword-fight across treetops, and have running gun-battles through the Underworld in a desperate race to keep history itself from being rewritten. Discover your sworn enemy is your long-lost sister, swear vengeance for the fallen noodle-boy caught in the crossfire, and kill a lot of kill-worthy dudes to earn one more bounty so you can buy that nightclub singer new corneas. Kick butt! Blow things up! Save the world!
Kiii-yaaah!
We presented the first edition of
Feng Shui
and four of its supplements in a quick five-day offer way back in October 2013. This
all-new,
bargain-priced collection had many 2E books funded in Atlas's triumphant
September 2014 Feng Shui 2 Kickstarter campaign
, along with half a dozen First Edition supplements not included in the previous offer.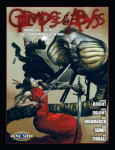 There were 
four
titles in our
Starter Collection
(retail value
$40)
, including the complete full-color
Feng Shui
2E corebook (plus the free
Red Packet Rumble
demo pack), the introductory scenario and quickstart rules set
Hong Kong Task Force Double Eight,
the updated adventure
Burning Shaolin Redux,
and the First Edition creature collection
Glimpse of the Abyss.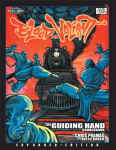 Those who paid more than the threshold (average) price 
also
got our entire
Bonus Collection
with
eight
more supplements worth an additional
$81,
including the 2E
Secrets of the Chi War,
five 1E Faction sourcebooks (
Blood of the Valiant, Elevator to the Netherworld, Seal of the Wheel, Thorns of the Lotus,
and
Gorilla Warfare
), and the Game Master Screen with its 32-page insert book,
A Fistful of Fight Scenes.
After launch we added
Blowing Up the Movies
, a 144-page analysis by Robin Laws of two dozen action films and the lessons they can teach
Feng Shui
Game Masters.
Ten percent of each payment (after gateway fees) went to this offer's designated charity, the
National Film Preservation Foundation
. A nonprofit organization created by Congress to help save America's film heritage, the National Film Preservation Foundation support activities nationwide that preserve American films and improve film access for study, education, and exhibition.