Super-Powered by M&M 3E
Tuesday 26 June 2018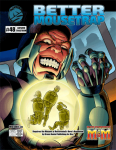 In June 2018 we presented the
M&M 3E Super-Powered Bundle
featuring RPG supplements from
Misfit Studios
,
Rogue Genius Games
, and
Vigilance Press
for the 2011 Third Edition of
Mutants & Masterminds, The World's Greatest Superhero RPG
from
Green Ronin Publishing
. Published under Green Ronin's "
Super-Powered by M&M
" open licensing program, these third-party supplements expand the rules and present hundreds of new heroes, villains, and creatures for your superheroic
M&M
campaign.
(New to
Mutants & Masterminds
? Get the
free eight-page M&M 3E Quickstart rules
from the Green Ronin website.)
There were 
four
titles in our
Starter Collection
(retail value
$56.50)
as DRM-free .PDF ebooks: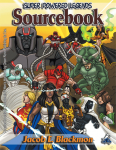 Those who paid more than the threshold (average) price 
also
got our entire
Bonus Collection
with
three
more titles worth an additional
$60:
Super Powered Legends Sourcebook (Rogue Genius, retail $20): Making its public debut in this offer after a successful October 2017 Kickstarter, this giant sourcebook presents an entire universe of 180 iconic characters who work as heroes or villains.
Super Powered Bestiary (Rogue Genius, retail $20): This ingenious supplement repurposes the d20 System's fantasy monsters as super-adversaries with complete M&M 3E stats.
Metahuman Martial Arts 3E (Misfit Studios, retail $20): A staggeringly comprehensive 365-page expansion and sourcebook that describes 160+ fighting styles and shows how to build your own.
Ten percent of each payment (after gateway fees) went to this offer's designated charity, the
Electronic Frontier Foundation
.