Symbaroum x2
Monday 16 November 2020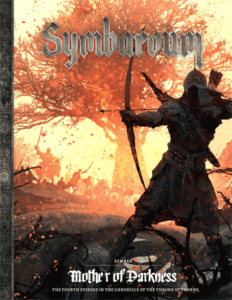 In November 2020 we presented
two
offers featuring
Symbaroum
, the dark fantasy RPG from
Free League Publishing
of primeval danger in the Forest of Davokar. We revived the August 2018
Symbaroum Bundle
with the core rulebook and early supplements, and we added an all-new companion,
Symbaroum Settings,
with recent sourcebooks and adventures.
Published in Swedish in July 2014, 
Symbaroum
's Core Rulebook appeared in English translation in November 2015 to immediate success. 
Symbaroum
conjures the foreboding forest of Davokar, a rich setting of ancient ruins and barbarian clans, Iron Pact elven wardens and Blight Beasts, princes and rogues, treasure and corruption, all beautifully illustrated in full color — check the spectacular
Imgur gallery
. The warrior queen Korinthia, called Nightbane, has led her refugees from the Great War to the shadow of Davokar. The site of the long-lost empire of Symbaroum, now Davokar is an immense and ancient forest inhabited by barbarians, elves, and darker things — a mysterious world of horror, beauty, and marvels. Through military might Korinthia's newfound kingdom of Ambria has subjugated Davokar's barbarian clans, and now moves to exploit the forest's wealth. But the elves of the Iron Pact have sworn not to let humans disturb a slumbering age-old evil. The wardens of the forest have issued a warning: Tread carefully and don't disturb the ruins of old, for the dark deep of Davokar is about to awaken.
The rules use a straightforward roll-under system to resolve both combat and problem solving. Unwise use of magic can corrupt you, temporarily or permanently. The players handle all dice rolls, so the Game Master may focus on interpretation and narration.
Symbaroum
's influences include
Warhammer Fantasy Roleplay,
White Wolf's Storyteller system,
Apocalypse World,
and several editions of
D&D,
as well as the films
Princess Mononoke
and
Pan's Labyrinth
and the
Witcher
computer games.
The setting is tightly focused and fully realized, an ideal sandbox for years of adventure. Explore the vast forest in search of treasures, lost wisdom, and fame. Visit the 11 barbarian clans to trade, plunder their treasuries, or help them preserve Davokar. Establish a base of power in the capital city of Yndaros among princes, guilds, or rebellious refugees. Or battle against famished Arch Trolls, dark-minded Blight Beasts, and undead warlords. Whatever you do,
Symbaroum
will treat you to unnerving hikes through ancient ruins, journeys on pitch-black waters under starless skies, and confrontations with barbarian chieftains and raging abominations.
SYMBAROUM SETTINGS [all-new]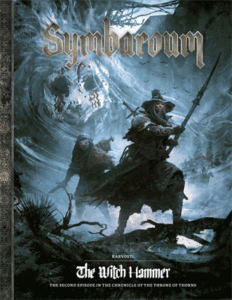 This new
Symbaroum Settings Bundle
added recent sourcebooks and adventures, most of them funded in Kickstarter campaigns in
March 2017
(
Karvosti
),
October 2017
(
Monster Codex
),
April 2018
(
Yndaros
), and
March 2019
(
Symbar
). These location sourcebooks continue the epic
Throne of Thorns
campaign begun in the
Symbaroum
rulebook and the early supplement
Thistle Hold
(part of the revived August 2018
Symbaroum Bundle
, below).
There were
six
titles in this offer's
Starter Collection
(retail value
$48)
, including
Karvosti – The Witch Hammer
, a location sourcebook with the second part of the
Throne of Thorns
campaign, plus its appendix
Hidden Treasures of Davokar
and the free scenario
Grey Wade Crossing
; a sourcebook about the region's capital city,
Yndaros – The Darkest Star
, plus its related supplements
City Adventures
and
Secrets of Yndaros
; and
Adventure Pack 2
.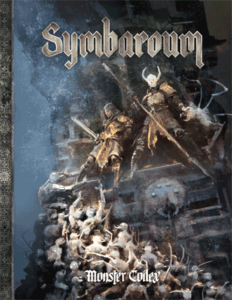 Those who paid more than this offer's threshold (average) price 
also
got this offer's entire
Bonus Collection
with
seven
more titles worth an additional
$64,
including the setting book about the wildest and darkest parts of Davokar,
Symbar – Mother of Darkness
, plus its dedicated play aids
Davokar Game Master's Screen
,
Davokar & Symbar Hexagon Map
, and
Ruins of Symbar
; the
Symbaroum Monster Codex
plus its
Adventure Locations
; and
Adventure Pack 3
.
SYMBAROUM BUNDLE
[from August 2018]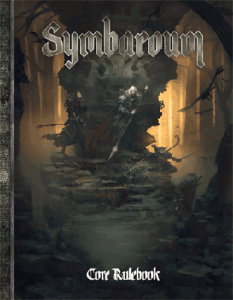 This revived August 2018
Symbaroum Bundle
once again presented the core rulebooks and key supplements. There were 
five
titles in this revived offer's
Starter Collection
(retail value
$48),
including the full-color 264-page
Symbaroum Core Rulebook
, the
Advanced Player's Guide
, the
Abilities & Powers
reference cards, and
Adventure Pack 1
with two introductory scenarios.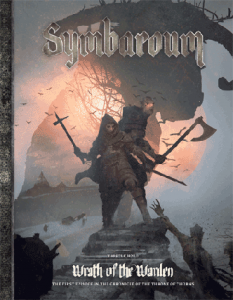 This offer's
Bonus Collection
added
five
more titles worth an additional
$51,
including
The Mark of the Beast
and
Tomb of Dying Dreams
, two "landscapes" (scenarios) that complete the adventure begun in the Core Rulebook;
Thistle Hold – Wrath of the Warden
, the launch of the seven-part
Throne of Thorns
campaign; the
Symbaroum Game Master's Screen
; and the glorious art book
The Art of Symbaroum
. Ten percent of each payment (after gateway fees) went to these two
Symbaroum
offers' pandemic-related charity,
Direct Relief
. Direct Relief gets protective gear and critical care medications to health workers, with emergency deliveries to medical facilities across the US and to regional response agencies across the world.