Dungeon Crawl Classics & DCC Lankhmar
Tuesday 20 April 2021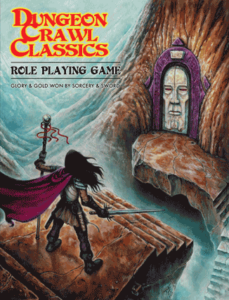 In April 2021 we presented
two
all-new offers featuring
Dungeon Crawl Classics
, the
Goodman Games
FRPG of gold and glory won by sorcery and sword. Our
Dungeon Crawl Classics Bundle
had the core rulebook and an array of modules that carry your adventurers from zeroes to heroes. Its companion offer,
DCC Lankhmar,
added the big boxed set that adapts
DCC
to Fritz Leiber's world of Nehwon, home of Fafhrd and the Gray Mouser.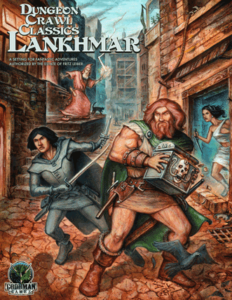 After establishing the
Dungeon Crawl Classics
brand with five dozen old-school
D&D
3
.x
modules published under the d20 license (2005-2011) — we featured these in our April 2016 Dungeon Crawlers offer — Joseph Goodman introduced his own standalone
DCC RPG
in 2011. Since then the game has steadily gained ground, strengthened by stalwart Goodman designers like Michael Curtis and Harley Stroh as well as TSR-era artists like Erol Otus, Jeff Easley, and Jeff Dee.
DCC's third-party support
is also vigorous; hundreds of small publishers have embraced
one of the gaming field's most supportive licenses
. A high-power
October 2015 Kickstarter campaign
for the corebook's fourth printing raised US$215K from 2,259 backers.
Not exactly a retro-clone but suffused with old-timey brio,
DCC RPG
glories in its own loopy and lurid, giddy and gaudy aesthetic. Its inspiration — the most colorful sources in Gary Gygax's "
Appendix N: Inspiration and Education Reading
" in the original
AD&D Dungeon Masters Guide
— shows in
DCC RPG
module titles like
The Sinister Sutures of the Semptress, The Corpse That Love Built, The Accursed Heart of the World Ender, The Croaking Fane, The Dread God Al-Khazadar,
and
Creep, Skrag, Creep!
In all these heady adventures it's easy to stay focused on
DCC RPG
's goal: "Adventure as 1974 intended you to."
1. DUNGEON CRAWL CLASSICS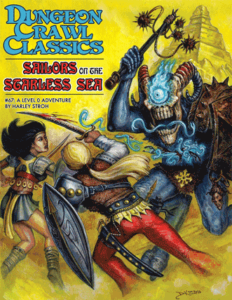 This
Dungeon Crawl Classics
Bundle presented the comprehensive 506-page
DCC
rulebook and an array of modules that carry characters from the Starless Sea to the Cannibal Kingdom and beyond the Black Gate. There were
four
titles in this offer's
Starter Collection
(retail value
$52)
as DRM-free .PDF ebooks, including the complete 506-page
DCC RPG rulebook
, the Gen Con tournament module
The Black Heart of Thakulon the Undying
, and the popular 0-level "funnel" adventure
Sailors on the Starless Sea
, as well as the
DCC Judge's Screen
.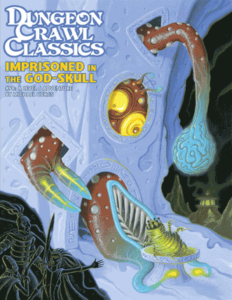 Those who paid more than this offer's threshold (average) price
also
got this offer's entire
Bonus Collection
with
six
complete modules (for character levels 1-6) worth an additional
$42,
including
The Queen of Elfland's Son
,
Moon-Slaves of the Cannibal Kingdom
,
The Star Wound of Abaddon
,
Emirikol Was Framed!
,
Beyond the Black Gate
, and
Imprisoned in the God-Skull
.
2. DCC LANKHMAR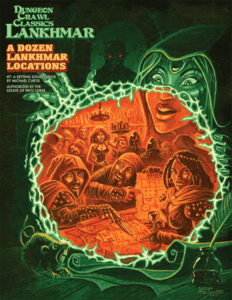 Fritz Leiber
(1910-1992) chronicled the adventures of
Fafhrd and the Gray Mouser
for more than fifty years. From their home base in the City of Seven-Score Thousand Smokes,
Lankhmar
, the two rogues gallivant across their fantastic realm of Nehwon. Fafhrd, a tall and brawny northern barbarian, is a warlock in service to the wizard Ningauble of the Seven Eyes. The small and nimble Mouser, a mercurial thief, was once apprenticed to Sheelba of the Eyeless Face. Through three dozen picaresque stories that range widely in tone, the two peerless swordsmen perfectly model the typical
D&D
player character. No wonder one of TSR's first products was Leiber's
Lankhmar
board game, and
AD&D
2E had a well-regarded line of
Lankhmar – City of Adventure
supplements.
Authorized by the Leiber estate, Goodman Games funded the
Dungeon Crawl Classics Lankhmar
line in a
March 2017 Kickstarter campaign
(1,838 backers, US$187K). The 2018 boxed set expands the
DCC RPG
rules to match the tone of Leiber's most exciting stories. A new "Fleeting Luck" mechanic lets good fortune blesses your characters one minute, only to dash their hopes the next. Goodman has followed up with a typically strong support line of
a dozen Lankhmar modules
, as well as several interesting blog posts about
Fritz Leiber and his work
.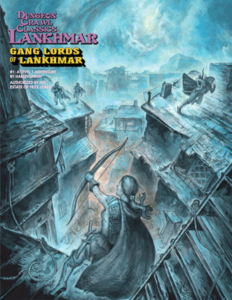 This
DCC Lankhmar Bundle
explored the City of the Black Toga and followed in the footsteps of Fafhrd and the Mouser across Nehwon. This offer's
Starter Collection
(retail value
$52)
presented the massive
Dungeon Crawl Classics Lankhmar boxed set
(plus the free
DCC Quick Start Rules
) and the introductory adventure
Gang Lords of Lankhmar
.
This offer's
Bonus Collection
added no less than
eight
supplements and modules worth an additional
$56,
including
The Land of Eight Cities
,
A Dozen Lankhmar Locations
,
The Fence's Fortuitous Folly
,
Acting Up in Lankhmar
,
Grave Matters
,
Rats of Ilthmar
,
Violence for Votishal
, and
Blasphemy and Larceny in Lankhmar
.
Ten percent of each payment for these two
Dungeon Crawl Classics
offers (after gateway fees) went to the charity chosen by
DCC RPG
designer Joseph Goodman,
San Francisco-Marin Food Bank
. For more than 30 years the SF-Marin Food Bank has worked to end hunger in the San Francisco Bay Area, where one in four neighbors is at risk of hunger.