Midgard Bundle – the Kobold Press FRPG setting
Tuesday 4 August 2015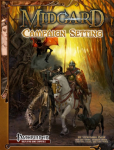 In July 2015 we presented our Midgard Bundle featuring the dark fantasy tabletop roleplaying setting inspired by traditional European legends and folklore, Midgard from Open Design and Kobold Press. Created by Chief Kobold Wolfgang Baur and many talented designers, Midgard is an epic clockpunk realm of fey magic, vampire kingdoms, and old forests — artificers and scriveners, ravenfolk and Trollkin, reaver dwarves and dragon-men — plus lots of kobolds. It's a wonderfully rich campaign setting for Pathfinder, D&D 3.x, or any OGL fantasy RPG. And for those who bought our July 2013 Bundle of Zobeck, this companion offer (with only two duplicated titles) delivered the fantastic world beyond the Free City's borders.
Our Starter Collection included five titles (retail value $36) as DRM-free .PDF ebooks:
Midgard Campaign Setting (retail value $20): The full-color 298-page guide to this Old-World setting of Slavic myth and clockwork fantasy. (Originally presented in our Bundle of Zobeck.)
Tales of the Old Margreve along with its Web Compilation and Paper Miniatures (total retail $11): Eight eerie Pathfinder adventures in a forest of deep mystery, plus a gallery of characters from cheerful innkeepers to dragons.
Player's Guide to the Crossroads (retail $5): Another Bundle of Zobeck title, this is the essential region guide to the strategic center of Midgard.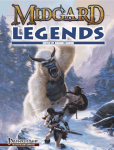 Customers who paid more than the threshold (average) price, also received all seven titles in our Bonus Collection (retail value $62):
Midgard Legends (retail $10): Characters, monsters, artifacts, organizations and haunts that inspire truly epic adventures.
Midgard Tales and its Map & Art Folio (total retail $25): Thirteen memorable Pathfinder adventures that remake classic themes and destroy complacency.
Northlands and its Further North expansion (total retail $12): Wintry roleplaying in a land inspired by Norse, Finnish, and Inuit legend. One of the best-regarded Midgard supplements.
Dark Fey (retail $4): The shadow fey, allies, and servitors — goblins, hags, brownies spirites, quicklings, and animal spies.
To the Edge of the World (retail $4): A wild voyage beyond the edge of Midgard — epic fun for low-level characters.
The Forgotten King's Tomb (retail $3): A dungeon crawl for kobold player characters. In Midgard, kobolds are a venerable and respected race.
The Raven's Call (retail $4): An introductory adventure about rescuing a village from trollkin.