Aces & Eights – Old West RPG action from Kenzer & Co
Wednesday 23 September 2015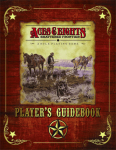 In September 2015 our
Aces & Eights
Bundle presented the lavish Wild West tabletop roleplaying game
Aces & Eights: Shattered Frontier
from
Kenzer & Company
.
A comprehensive RPG of life in America's Old West,
Aces & Eights
is full of imaginative systems, like its Shot Clock game aids — targeting grids printed on transparent plastic overlays and placed on target silhouettes to identify hit locations. (You may have seen a similar system in
Millennium's End
from Chameleon Eclectic Entertainment, presented in our July 2015
Millennium's End Bundle
.) In
A&E
's poker chip-based brawling system, characters become winded, tired, or knocked senseless in a fight. Beyond its realistically deadly combat system,
Aces & Eights
focuses on Old West life outside the gunfight. Over 60 available professions cover the full range of possibilities in the Wild West. With no levels or classes, characters can change professions at will.
The "Shattered Frontier" of
Aces & Eights
is an alternate-history 1850s, where the Civil War happened early, the South won, and North America is broken into small, fractious nations. But apart from a slight acceleration in arms technology, there is no fantasy element; the setting aims for realism. Modular mini-games cover everything from shootouts to cattle drives to jury trials. You can take any profession, pursue any goal; Aces & Eights is as wide open as the land itself.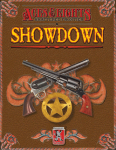 Our
Aces & Eights
Bundle included
everything you need
to create your own campaign on the Shattered Frontier. Our
Player's Collection
included
four
titles (retail value
$45)
as complete, DRM-free .PDF ebooks:
Aces & Eights: Player's Guidebook (retail price $15): The 230-page core rulebook that lets you create any kind of Old West character.
Showdown (retail $10), which extracts the Shot Clock combat system from the main rulebook, and the Shootist's Guide (retail $15) with new Target Silhouettes.
Bad Day at Buena Roca (retail $5): A pick-a-path solo adventure that teaches the Aces & Eights rules.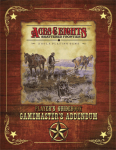 Customers who paid more than the threshold (average) price
gained Fame and Reputation
and
also
got all
seven
titles in our
Gamemaster's Collection
(retail value
$90):
Gamemaster's Addendum (retail $5): More than a mere appendix, this is the essential 206-page guide for running a campaign on the Shattered Frontier or in any Old West RPG.
Rustlers & Townsfolk (retail $15): Over a hundred fully defined nonplayer characters from every walk of Western life.
Judas Crossing (retail $20) and Rustlers & Townsfolk: Judas Crossing Edition (retail $15): A complete frontier town and a comprehensive guide to its inhabitants.
Trouble on the Sequoyah Star (retail $20): A huge adventure set on a passenger train heading toward a date with destiny.
Fool's Gold (retail $10): A 95-page adventure in Lazarus, a mining boomtown with a lot going on.
EGhost Town (retail $5): A spooky adventure for your All Hallows Eve roundup.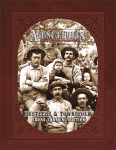 To buy all these ebooks down at the general store, you'd need 135 silver dollars. Ten percent of each payment (after gateway fees) went to this offer's designated charity,
Reading is Fundamental
.