Bundle of Fate +3 – new Fate-powered RPGs
Wednesday 18 November 2015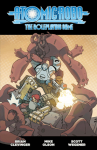 In November 2015 we presented the
Bundle of Fate +3
, a new collection of tabletop roleplaying games that use the ever-popular
Fate rules system
. This third installment of our popular annual series was both (a) spectacular and (b) inexpensively priced — a low-priced way to meet
Fate
.
Our
Starter Collection
included
seven
titles (retail value
$46.50)
as DRM-free .PDF ebooks:
Part-Time Gods of Fate (Third Eye Games, retail price $15): Ordinary people imbued with godly power try to balance their mortal and divine lives.
Hunters of Alexandria (D101 Games, retail $12): Monster-hunting around the year AD 1.
Venture City Stories, Behind the Walls, and Psychedemia — three different "Worlds of Adventure" from Evil Hat Productions (total retail $12) set in a super-powered city, a maximum security prison, and a psionic adademy, all funded through Evil Hat's Patreon crowdfunding campaign.
As a convenience, we also include Evil Hat's Fate Core and Fate Accelerated Edition rulebooks, which are available as pay-what-you-want downloads from the Evil Hat website.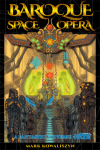 Those who paid more than the threshold price
gained Fate Points
and
also
got our entire
Bonus Collection
of
nine
more titles (retail value
$61):
Atomic Robo RPG (Evil Hat, retail $15): Action! Science! Robots! Punching! More Science! Based on the comic by Brian Clevinger and Scott Wegener.
Baroque Space Opera (Mark Kowaliszyn, retail $15): A fantastically flavorful (and dangerous) galactic setting inspired by Dune, Lexx, Metabarons, Farscape, and many more.
Unwritten: Adventures in the Ages of MYST (InkWorks, retail $10): Inspired by the 1980s computer games, this puzzle-based tabletop RPG explores ancient mysteries of the D'ni.
Eagle Eyes, Gods and Monsters, and Sails Full of Stars — three more Evil Hat "Worlds of Adventure" (total retail $12).
The Fate Codex Volume 2, Issues #1-3 (Magpie Games, total retail $9): Three new issues of the mostly-monthly Fate magazine funded by Mark Diaz Truman's Patreon crowdfunding campaign.
PS:
By the way,
Fate
RPGs use
Fudge Dice
, available from
Evil Hat Productions
(as "Fate Dice"), at hobby gaming stores, or from
Amazon
.