ICONS – fast, fun superheroic RPG action
Monday 13 June 2016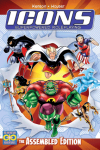 In June 2016 we presented the
ICONS Bundle
, featuring featuring the fast-playing superpowered tabletop roleplaying game
ICONS
by
Steve Kenson
, designer of
Mutants & Masterminds.
ICONS
adapts the spirit of classics like
Marvel Super Heroes
and
Villains and Vigilantes
to a modern narrative design loosely based on Stefan O'Sullivan's
Fudge
.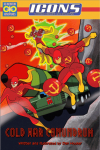 Compared to a lot of superhero RPGs,
ICONS
is fairly short and simple. You won't find exhaustive details or situational rules, and there's no built-in setting beyond "the world of comic book superheroes." The game targets the atmosphere of Silver Age comics and modern animated adventures like
Batman Beyond
. Mix-and-match heroes and villains from
ICONS
books, other games, your favorite comics, and your own imagination. The
ICONS
system provides a balancing mechanism so any group of heroes can work on relatively even footing.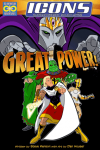 This huge new collection presented
everything you need
for anything from a pick-up game to a complete four-color campaign. We offered no less than
eight
titles in our
Player's Collection
(retail value
$67)
as DRM-free .PDF ebooks:
ICONS: The Assembled Edtion (retail price $15): The complete, comprehensive 232-page full-color rulebook. Includes the Game Master's Screen (retail $1) with helpful reference charts.
Great Power (retail $10): The super-powers sourcebook with new power options, dazzling devices, and ways to reskin existing powers.
Five Hero Packs (total retail $41): A total of 260 fully statted, ready-to-play characters.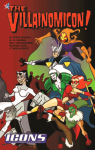 Heroes who paid more than the threshold (average) price
raised their Determination
and
also
got our entire
Game Master's Collection
with
twelve
more titles (retail value
$76):
ICONS A to Z (retail $10): Steve Kenson's 26 essays on all things superheroic — from Aliens, Battles, and Cosmic through X-Factors, Youth, and Zombies — published biweekly in 2015 and newly collected.
The Villainomicon (retail $10): A rogues' gallery of antagonists from Auntie Social and Beastman to Yama King and Zergo.
Rise of the Phalanx (total retail $26): These four linked adventures by Dan Houser (Flight of the Nova-1, Cold War Conundrum, The Nemesis Crisis, and The Metaskulk Invasion) kick off a new campaign or make great "special crossover events."
Three four-color adventures (total retail $15): Scenarios in the Silver Age style by Steve Kenson — the introductory adventure The Sidereal Schemes of Dr. Zodiac, military battlesuit mayhem in The Skeletron Key, and the time-bending The RetConQuest.
Urban Jungle (retail $5): Garden-greenery supervillain mayhem in Silver Age style.
Devil's Night (retail $5): During the annual "Devil's Night" festivities in Middle Rock, cursed Halloween masks are turning both kids and adults into monsters!
Murder of Crowes (retail $5): The brutal death of a high schooler and the mysterious disappearance of a scarecrow lead to mayhem in a rural community.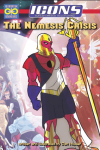 That's a total retail value of
US$128,
enough to draw the interest of the greedy Corsair Queen or conceivably even Professor Hominid.