Daring Tales – thrilling Savage Worlds adventures
Monday 11 July 2016
In July 2016 we presented the
Daring Tales Bundle
, featuring over
three dozen
heroic RPG adventures across many ages and genres — pulp, medieval, cyberpunk, gangsters, and space opera — all from
Triple Ace Games
for Pinnacle Entertainment's bestselling
Savage Worlds
RPG.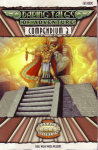 This offer was an offshoot from the May 2016
Pulp Adventure
offer. We planned to include two of the
Daring Tales of Adventure Compendium
books, but the offer grew too large. So, heroically rescuing the victims from the precipice, we pulled those books into this all-new, even larger collection with nearly two dozen
Daring Tales
titles. Whether it's the Middle Ages, the 1930s, or the near and far future, the many
Daring Tales
lines bring thrilling action to your table. Each game line includes pregenerated player characters, making these short adventures ideal for one-night (or one-knight) pick-up games.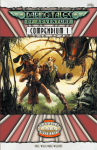 There were
eight
titles in our
Starter Collection
(retail value
$54.50),
all presented as DRM-free .PDF ebooks:
Perilous Places & Serious Situations (retail price $7): A toolkit to add excitement to any battle. Includes the free Savage Worlds Test Drive rules (2013).
Daring Tales of Adventure Compendium 1 and Compendium 2 (total retail $14): Nine globetrotting thrill-ride pulp adventures in the pulp 1930s. Includes Figure Flats (retail $5) with 25 character standups to print and cut out.
Daring Tales of the Space Lanes Compendium 1 (retail $12): Four far-future Firefly-style adventures in spaaaace.
G-Men & Gangsters (retail $10.50): A miniatures game with a setting made for roleplaying — an alternate Prohibition-era America shattered into warring ganglands. Includes the free Savage Worlds Showdown miniatures rules.
Elite Nazi Units and Rocket Rangers (total retail $6): Two short Daring Tales of Adventure supplements with nefarious bad guys and high-flying rocketeers.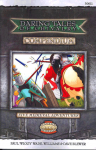 Those who paid more than the threshold (average) price
also
got our entire
Bonus Collection
with
fifteen
more titles (retail value
$79):
Daring Tales of Adventure Compendium 3 and Compendium 4 (total retail $14): Eight more pulse-pounding pulp adventures with dark pharaohs, lost subterranean Aztec kingdoms, Tunguska, etc.
Space Lanes Compendium 2 (retail $12): Four more starfaring missions with ancient alien relics, doomsday weapons, a holomovie queen, and maddened space whales.
Daring Tales of Chivalry Compendium (retail $9): What ho, venture back to mystic medieval England with these five mysterious quests for brave knights.
Daring Tales of the Sprawl Compendium (retail $12): Grab your mirrorshades and jack in to these five jobs in the neon-lit Conurbation of 2075.
G-Men Faction Packs 1-6 (total retail $21): Six short supplements for G-Men & Gangsters with detailed factions, nonplayer characters, vehicles, and equipment. These miniatures supplements also fit smoothly in a Savage Worlds roleplaying campaign.
Three Guides to the Space Lanes (total retail $9): Combat Hazards, Starships of the Galaxy, and Sector #01 — three short supplements that add excitement to your Already-Daring Tales of the Space Lanes.
G-Men & Gangsters Faction Pack 7 (retail $2): Debuting in this offer, this nine-page supplement brings high weirdness to the Gang War, with cults, paranormals, voodoo, undead gangsters, Martians, and heavily armed postal inspectors.
All of that makes a
US$122.50
retail value with enough adventures to fill a
year
of action-packed play. Ten percent of each payment (after gateway fees) went to this offer's designated charity,
Doctors Without Borders
.