Hellfrost Essentials (Sept 2015) & Atlas (new)
Tuesday 9 January 2018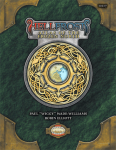 In January 2018 — even as North America emerged from a
historic cold wave
— we presented 
two
offers featuring
Hellfrost
, the epic fantasy
Savage Worlds
campaign from Triple Ace Games set in a frozen land engulfed by winter. First, we revived and revamped our original September 2015 collection as
Hellfrost Essentials,
with the
Player's Guide
and early supplements. Then we expanded the frigid waste with the all-new companion offer,
Hellfrost Atlas.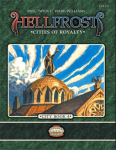 The land of Rassilon endures the blighting effects of the centuries-long Blizzard War against the northern frost giants, dragons, and hordes of ice goblins. Much of the land is permanently covered in ice and snow, and even the temperate lands south of the Icewall suffer failed harvests and the dreaded Hellfrost wind. And winter is not the only danger. Just 30 years ago magic, once the civilized races' most potent weapon, suddenly began to fail. The Siphoning, an effect of unknown origin, has made magic an unpredictable ally.
Created by endlessly prolific designer Paul "Wiggy" Wade-Williams, the ice-bound
Hellfrost
setting is one of the most popular and enduring third-party campaigns for
Savage Worlds. Hellfrost
spawned a companion line, seen in our March 2016
Land of Fire
Bundle, set on the same world's balmier continent of Al-Shirkuh. And after Triple Ace produced the tremendous new
Atlas of the Frozen North,
we wanted to bring back this ever-expanding world, bigger and better than ever, for players who missed it the first time around.
1. HELLFROST ESSENTIALS [revived from September 2015]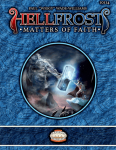 This revived and revamped Essentials collection had 
everything you need
to create your own epic fantasy campaign in Rassilon. There were 
five
rulebooks and sourcebooks in this offer's
Player Collection
(retail value
$54)
as DRM-free .PDF ebooks: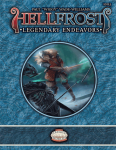 Those who paid more than this offer's threshold (average) price 
also
got this offer's entire
Gamemaster Collection
with
seven
more supplements worth an additional
$83,
including the
Hellfrost Bestiary
and
Creature Guide
, the
Gazetteer
,
Encounters Book 1
, and (new in this revival)
Legendary Endeavors
, with rules for creating super-powerful relics and weaving their legends. The new edition of the 
Hellfrost Gamemaster Screen
and its brand-new 34-page insert booklet
Journeys
debuted in this offer and are
not available in .PDF anywhere else.
(And if you bought this offer during its original September 2015 run, you'll find the new additions in the Starter Collection on your Wizard's Cabinet download page. When you buy a Bundle of Holding, you never worry about missing books added later — even
much
later.)
2. HELLFROST ATLAS [all-new]
This
all-new
companion Atlas collection expands the frozen landscape of Rassilon with the fabulous
Atlas of the Frozen North
and other titles funded in Triple Ace's
July 2014 Kickstarter campaign
. There were 
six
supplements in this offer's
Starter Collection
(retail value
$75)
, including the
Adventure Codex
(retail price $30) — a massive 554-page compendium of two dozen scenarios for heroes of all levels — along with five
Hellfrost City Books
(total retail $45), in-depth guidebooks including
City Book 1: Cities of the Freelands,
2: Cities of Magic
,
3: Cities of the Crystalflow
,
4: Cities of Royalty
, and
5: Freetown, City of Crime
.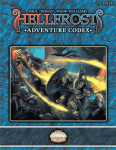 This offer's 
Bonus Collection
added 
four
more major supplements worth an additional
$87,
including the spectacular full-color 386-page
Atlas of the Frozen North
(retail $40), its companion book of color
Map Sheets
(retail $25), and the new Second Edition of
Hellfrost Resource Management
(retail $15) that lets you build your legend for millennia to come.
Hellfrost Action Deck
(retail $7) has 54 cards with full-color artwork and rune effects to enhance your
Savage Worlds
play sessions.
Ten percent of each payment (after gateway fees) went to these two
Hellfrost
offers' designated charity, the
Electronic Frontier Foundation
.