Crowdfunding by past Bundle contributors – May 2018
Friday 25 May 2018
Mongoose Publishing is Kickstarting Acute Paranoia, a boxed expansion for Paranoia, including more treason, more drugs, rules for bot player characters, Dysphoric Bingo cards, and many other fun things, not all of which involve summary execution.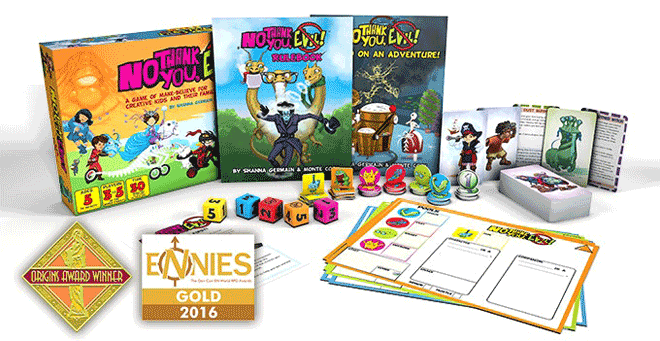 Longtime Bundle supporter Monte Cook Games is funding a reprint of No Thank You Evil!, their storytelling game for creative kids, grownups, and everyone in between. Released in March 2016, No Thank You Evil! appeared in our December 2016 Family-Friendly RPGs +2 offer.
Third Eye Games, which contributed The Ninja Crusade Second Edition to our November 2016 Indie Cornucopia +4, has a Kickstarter for the Second Edition of Part-Time Gods, Eloy Lasanta's RPG about modern gods who must balance the mortal and divine natures of their new life. Inspired by American Gods, The Almighty Johnsons, Thor comics, and the Percy Jackson novel series, Part-Time Gods makes you a divine being in modern society — but being a god doesn't pay the rent, and it doesn't excuse you from your day job or fixing that toilet leak. You'll need to make tough decisions — do you have time to help your fellow deities fend off world-threatening Outsiders before your sister's wedding? Part-Time Gods 2E uses the Chakra System from Ninja Crusade. Download the free Part-Time Gods Second Edition Preview.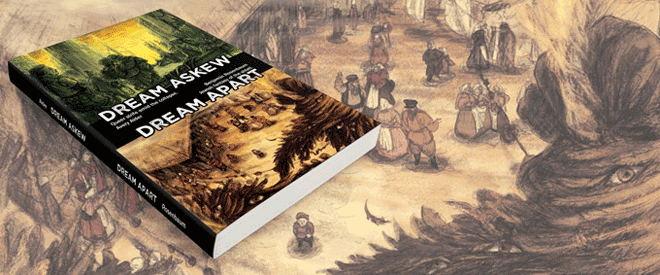 Monsterhearts designer Avery Alder is Kickstarting Dream Askew / Dream Apart, two beginner-friendly RPGs about marginalized people living together in precarious community. In Dream Askew, that community is a queer enclave enduring the collapse of civilization. In Dream Apart it's a Jewish shtetl in a fantastical-historical Eastern Europe. They both use a no-dice, no-masters system that emphasizes collaboration, shared ownership, and character-driven play.
Ross Cowman of Heart of the Deernicorn, who contributed Serpent's Tooth to our April 2015 Indie Spring Festival, seeks funding for BFF, The RPG of Girlhood Friendship and Adventure, an RPG he designed with his mother, Terri Cohlene. "In it we tell a story about a group of young friends hanging out, having adventures, and exploring how our friendships change and grow." (A wholesome contrast to Best Friends, Gregor Hutton's mordant game of petty hatreds in our first Indie Treasure Trove.)
Ulisses Spiele North America contributed our two offers of the original 1990s Torg line, then ran a spectacularly successful (US$356K!) June 2017 Kickstarter for the new edition, Torg Eternity. Now Ulisses is using the crowdfunding platform Game On Tabletop to raise funds for new Torg Eternity worldbooks and adventures. Torg Eternity: The Living Land continues the Possibility War, as Storm Knights rise to battle High Lord Baruk Kaah and his invading edeinos hordes.
As always, we recommend the many Patreon campaigns that support our past contributors, including
Avery Alder
,
D. Vincent Baker
,
Joseph Browning
,
Dennis Detwiller
,
Evil Hat Productions
,
Johnn Four
,
Kenneth Hite and Robin D. Laws
,
Berin Kinsman
,
Kobold Press
,
Dyson Logos
,
Jess Nevins
,
Wes Otis
(Plate Mail Games),
Epidiah Ravachol
,
Fraser Ronald
,
Daniel Solis
,
Paul Stefko
, and
Mark Diaz Truman
(Magpie Games).