Tiny Dungeon/Tiny D6
Monday 1 July 2019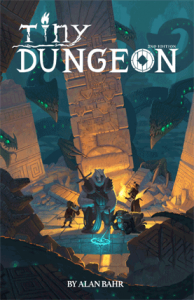 In July 2019 we presented the
Tiny Dungeon Bundle,
featuring the stripped-down and streamlined
TinyD6
universal rules set from
Gallant Knight Games
. Funded in a
September 2017 Kickstarter campaign
, the
Tiny Dungeon
RPG uses the minimalist TinyD6 mechanics for a fast-playing fantasy game that's easy to learn and teach, and ideal for convention games, one-shots, and novice roleplayers. Player characters — heroic adventurers, daring treasure hunters, imperious magicians, and more — have statistics that fit on a 3×5″ notecard. Designer
Alan Bahr
has adapted the TinyD6 rules for standalone games in other genres. This bargain-priced offer included the current editions of
Tiny Dungeon, Wastelands, Frontiers,
and
Mecha
(tiny, uhhh, giant robots?), along with a tiny boatload of freebies.
There were
five
titles in our
Dungeon Collection
(retail value
$37)
as DRM-free .PDF ebooks, including the complete
Tiny Dungeon 2E core rulebook
(previously presented in the November 2018 Indie Cornucopia 6), plus the free quickstart set
Mad Magicks of the Turned God
and the
Quickstart Characters
; the
Tiny Dungeon Player's Guide
; the print-and-cut
Bestiary Deck
and
Treasure Deck
; and the
GM Screen
.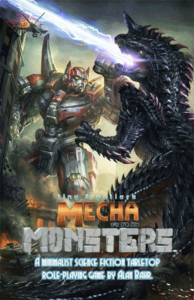 Those who paid more than the threshold (average) price 
also
got our entire
Universe Collection
with
seven
more TinyD6 games and supplements worth an additional
$61,
including the standalone RPG of streamlined post-apocalypse action
Tiny Wastelands Revised Edition
(plus its
Enclave Deck
and
GM Screen
);
Tiny Frontiers: Revised
(plus its
Rules Expansion
); the
Frontiers
supplement
Mecha and Monsters
(plus its
Pregen Cards
); and, for summer-season lifeguarding action and bay-watching glamour,
Beach Patrol
(plus its free set of
Quickstart Characters
).
Ten percent of each payment (after gateway fees) went to this offer's designated charity,
Doctors Without Borders
.