Savage Battlefield
Thursday 19 September 2019
On short notice in September 2019 we presented the
Savage Battlefield Bundle,
featuring campaign settings published by
Battlefield Press
for Pinnacle Entertainment's fast-furious-fun
Savage Worlds Deluxe Edition
RPG. (And one for the new
SW Adventure Edition,
too.) This all-new offer, which helped Battlefield owner Jonathan Thompson and his family after an arsonist burned their home, presented Victorian and World War I fantasy, Cthulhoid space opera, Robin Hood adventure, and more for a bargain price.
On August 6, as Battlefield Press owner Jonathan Thompson and his family were returning home from Gen Con, a burglar robbed their home in Shreveport, Louisiana and then, to hide the burglary, set the house on fire. "We lucked out that we had a vigilant neighbor," says Jonathan. "The fire department was close by and arrived within a few minutes of the 911 call. Though there were no people in the house, the fire did take the life of my two-month-old kitten. The fire destroyed collectibles, about a third of my gaming collection, general reference books, and my work computers. The fire damage was limited to two rooms, but the rest of the house has smoke and water damage from the fire department. We have insurance, but there is a $2,500 deductible, and we will be displaced to a hotel for at least the next 5-6 months. This collection will help us live while we are waiting to get back into our house."

There were
six
titles in our
Starter Collection
(retail value
$48.50)
as DRM-free .PDF ebooks, including the starfaring Cthulhu Mythos setting
Eldritch Skies (Savage Worlds Edition)
, plus the
Kindle version
and the
Eldritch Skies GM Screen Inserts
;
Sherwood: The Legend of Robin Hood Second Edition
; and the World War I fantasy setting,
Kaiser's Gate
(plus its sourcebooks
Kaiser's Gate Field Manual: Mounts
and
Adventures & Archetypes
).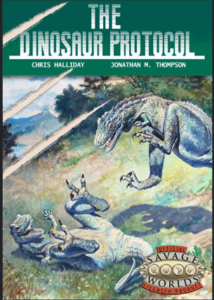 Those who paid more than the threshold (average) price
also
got our entire
Bonus Collection
with
five
more titles worth an additional
$55.50,
including the
Eldritch Skies
supplement
Distant Vistas
; the modern-day supernatural
Agents of G.A.I.A.
; the post-apocalyptic exploration of a World Reborn,
The Dinosaur Protocol
(for
SWAdE
);
Gaslight Victorian Fantasy Third Edition
(plus the free
Gaslight Map Pack
and
Calendar Pack 1888
); and the 1920s one-shot adventure set in the
Kaiser's Gate
background,
Wizards and Wiseguys: Public Enemies
(retail $5).
Ordinarily 10% of each Bundle of Holding purchase goes to a designated charity. For this
Savage Battlefield offer
we added the charity revenue to the publisher share to help Jonathan Thompson in a tough time.