Clockwork & Cthulhu
Monday 21 October 2019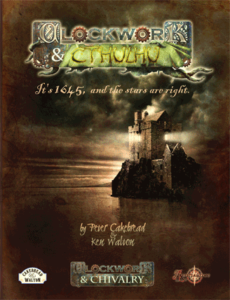 In October 2019 the
October Horrors
continued with the
Clockwork & Cthulhu Bundle
 featuring alternate-historical Mythos and flintlock-fantasy RPGs from
Cakebread & Walton
. A grim and gritty game of mud, blood, mayhem, and magick,
Clockwork & Chivalry
(2012) takes you to the
English Civil War
of 1645, but it's fought with witchcraft and basilisks, with Francis Bacon's alchemy and Oliver Cromwell's war machines. As Cromwell and his gigantic clockworks fight against the cavalier-alchemists of Prince Rupert, magickal pollution taints the land, waking creatures long dismissed as legends; obsessive scientists make wild discoveries; crazed inventors create mad machines. Can you and your fellow adventurers, armed only with musket, sword, and magick, hold back the tide of war?
And in the horror campaign supplement
Clockwork & Cthulhu
and the standalone companion game
Dark Streets,
the stars align for the return of the Old Gods — the creatures of HP Lovecraft's Cthulhu Mythos.
Cthulhu
expands the Civil War setting; Dark Streets, set a century later, casts the players as London's first police force, the Bow Street Runners.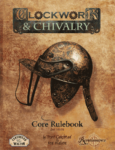 Clockwork & Chivalry
uses the percentile-based
Renaissance System
based on Newt Newport's
OpenQuest
, itself derived from Mongoose Publishing's edition of
RuneQuest.
Originally published as a supplement for
MRQ, Clockwork & Chivalry
relaunched in 2012 using Cakebread & Walton's own take on the
MRQ
rules set. The Renaissance rules adapt the familiar
RuneQuest
mechanics to the age of black-powder weapons, presenting extensive period weapons and equipment lists, dozens of professions, and rules for factions and belief systems. This "roleplaying Renaissance" later grew to encompass
Pirates & Dragons
(presented in our August 2015 Bundle of the Ages 2) and the two other major releases in this offer,
Dark Streets
Second Edition and
Clockwork & Cthulhu.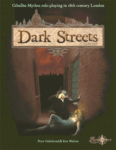 There were 
three
complete rulebooks in our
Starter Collection
(retail value
$63)
as DRM-free .PDFs, including
Clockwork & Cthulhu
,
Dark Streets Second Edition
, and
Clockwork & Chivalry Second Edition
(previously presented in our August 2013 Bundle of the Ages).
Those who paid more than the threshold (average) price 
also
got our entire
Bonus Collection
with
nine
more supplements and adventures worth an additional
$82.50:
Ten percent of each payment (after gateway fees) went to this offer's designated charity,
Rainforest Trust
.
English Civil War resources