Hero Kids (Apr 2018)
Wednesday 26 February 2020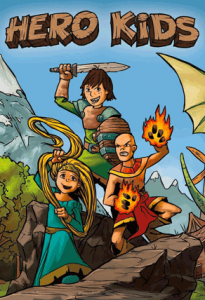 In February 2020 we revived the April 2018
Hero Kids Bundle
featuring
Hero Kids
, the fast and fun introductory RPG perfect for younger kids ages 4-10. Published by
Hero Forge Games
and complete in just 50 pages, the ENnie award-winning
Hero Kids
gives you male and female heroes including Warriors, Hunters, and Warlocks, as well as unique heroes like the Rogue, Brute, Healer, and Knight. With simple rules that use only six-sided dice, an opposed-dice system that keeps everyone in the game, and play times of an hour or so,
Hero Kids
pulls kids and parents alike into fantastic adventures. Some actual reports from actual parents:
"The game mechanics are easy to understand and fast enough to keep young players interested and do not get in the way of the story that is unfolding."
"It only takes about 15-20 minutes to read the entire rulebook and have a good enough grasp on the rules to play your first session. Games will typically take under 30 minutes to play, which short for a typical RPG session, but absolutely perfect when playing with kids."
"Was woken up at 6AM this morning by my son, saying he wanted to play Hero Kids right now! There's no such thing as going back to sleep in a 7yo's universe!"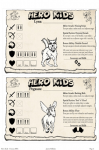 There were 
eight
titles in this revived offer's
Starter Collection
(retail value
$27)
as DRM-free .PDF ebooks, including the complete
Hero Kids rulebook
,
Hero Cards II
and
Pet Cards I
(more heroes and animal companions), five adventures of Normal difficulty (
Curse of the Shadow Walkers
,
Escape from the Ghost Pirates
,
Wizard's Tower
,
Fire In Rivenshore
, and
Yuletide Journey
), and even the free
Heroes coloring book
.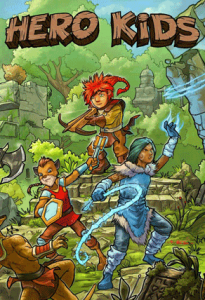 Those who paid more than the threshold (average) price 
also
got this revival's entire
Bonus Collection
with no less than twenty more titles worth an additional
$79,
including the
Monster Compendium
, all five
Space Expansions
for planet-hopping adventures (
Space Hero Cards I
and
Space Hero Cards II
,
Trouble at Threshold Station
,
Tyranny's Shadow
, and
Secret of the Crystal Caves
), five more sets of cards (
Hero Cards III
(exotic heroes),
IV – Forest Friends
(animal heroes), and
V – Monstrous Heroes
, plus
Pet Cards II
and
Equipment Cards
), and five Hard adventures (
Tomb of the Lost King
,
Mines of Martek
,
The Lost Village
,
Glade of the Unicorn
, and
Maze of the Minotaur
). After launch we added two Hard adventures (
Reign of the Dragon
and
Darkness Neath Rivenshore
) and two new card sets (
Hero Cards VI
 and
Hero Advancement Cards
). (If you had already purchased this offer, during either this revival or its original April 2018 run, you received all these new titles automatically on your Wizard's Cabinet download page and in your DriveThruRPG Library.)
Ten percent of each payment (after gateway fees) went to this offer's designated charity,
Reading is Fundamental
.