Chivalry and Sorcery
Monday 5 April 2021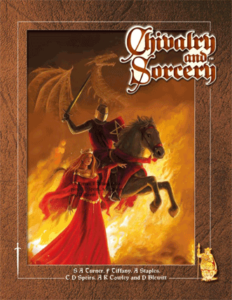 In April 2021 we presented the
Chivalry and Sorcery Bundle,
featuring the Fifth Edition of the venerable medieval fantasy RPG from
Brittannia Game Designs
. Among the oldest FRPGs still published,
Chivalry and Sorcery
has a 40-year reputation for historic authenticity. Created by Ed Simbalist (1943-2005) and Wilf Backhaus (1946-2009),
C&S
depicted a feudal Europe (originally 12th-Century France, later a range of periods) with nobles, knights, Christian priests, and medieval doctrines. Though the First Edition (Fantasy Games Unlimited, 1977) has the usual fantasy races, monsters, and an elaborate magick system, it wears these trappings lightly. In those early days, and in its cleaned-up Second Edition (1983),
C&S
focused not on dungeon crawls but on the feudal system, court intrigue, tournaments and jousts, and a comprehensive catalogue of ordinary life. The designers took inspiration from flavorful historical treatises such as
Life on a Mediaeval Barony
(1923) by
William Stearns Davis
.
Chivalry and Sorcery
also has a well-earned reputation for complexity. Early characters had 13 attributes, a social background in a rigid hierarchy, a multiplicity of skills, and astrological auspices; there were 21 classes of magick users. Resolving a single battle could take hours. Several later editions (
C&S3,
1996; "
C&S
Light," 1999; "Rebirth Edition," 2000; "Essence v1.1," 2011) aimed, in various ways, for accessibility.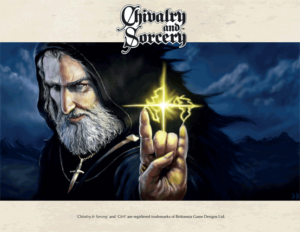 Now, four decades on,
Chivalry and Sorcery
is still accessing new audiences with its
Fifth Edition
(2020), funded in a
July 2019 Kickstarter campaign
from UK designer Stephen A. Turner.
C&S
5E refines the mechanics of past editions into a single percentile-based "Skillskape" mechanic. Though character creation remains intricate (Brittannia sells a
custom Excel utility
), attributes are simplified, and magick moreso.
Most interesting, especially in terms of accessibility, the new
C&S
draws on modern research to present the Middle Ages as they really were: diverse in cultural influences and rich with visitors from outside Europe. Now priests can follow Christianity, Judaism, or Islam, or you can tailor the faith rules to any religion, whether real-world or fictional. What hasn't changed: The Fifth Edition still weaves its fantasy on a foundation of realism, believability, and history. Want to foil an assassination plot at a royal wedding — clear a pack of bandits from Creag Hill in Somerset — or find a missing priest and recover his tithes from a haunted keep?
Chivalry and Sorcery
helps you tell all these stories with authority and conviction.
In a December 2019 review of C&S 5E on
Save vs Player Agency
, Andrew Marrington wrote: "
Chivalry and Sorcery
Fifth Edition is the most complete, playable medieval fantasy roleplaying game you can buy today. […] There are certainly a lot of rules, and in general they aim for a realistic feel rather than simplicity for simplicity's sake. There are certainly not 'more rules' than
Pathfinder,
though.
"If you want to play Arthurian knights inspired by the works of Sir Thomas Malory, you should go buy
Pendragon
and
The Great Pendragon Campaign.
But if you want more options, if you want a more
complete
medieval fantasy experience, then
Chivalry and Sorcery
provides. In fact, you don't even need to play an adventurer. […] You could run a
C&S
game as a medieval fantasy town simulator if you wanted. Every stratum of medieval society is playable."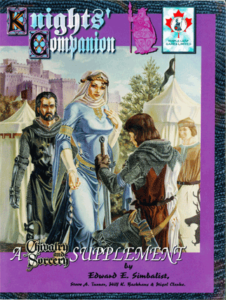 For those who fight, those who pray, those who toil, and those who enchant, this all-new
Chivalry and Sorcery
Bundle was a comprehensive guide. There were 
seven
titles in our
Player Collection
(retail value
$49)
as DRM-free .PDF ebooks, including the complete 600-page
Chivalry and Sorcery Fifth Edition core rulebook
(plus the
Character Generator Excel spreadsheet
); four
Companion
character supplements from earlier editions (and still compatible with 5E) —
Dwarves' Companion
,
Elves' Companion
,
Armourers' Companion
, and
Knights' Companion
; and
The Art of Chivalry and Sorcery
.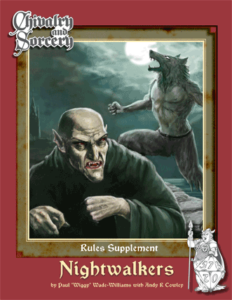 Those who paid more than the threshold (average) price 
also
got our entire
Gamemaster Collection
with
nine
more titles worth an additional
$71.50,
including the rules expansion
Nightwalkers
(for vampiric and lycanthropic characters); the location sourcebooks
Dragon Reaches of Marakush
(plus its
Dragon Reaches Map
) and
Anderia
(along with its
Anderia Map
); three full-length adventures —
Treachery
,
Treason
, and
Creag Hill
; and the
C&S 5E GM Screen
.
Twenty percent of each payment (after gateway fees) went to the charity chosen by Stephen Turner of Brittannia Games,
The Honeypot Children's Charity
. Honeypot supports young caregivers — children under 18 who provide care and emotional support to a parent, grandparent, or sibling who is ill, disabled, or suffers from a mental health condition or substance abuse.