Icons x2
Monday 10 May 2021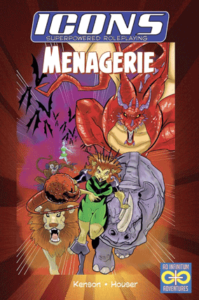 In May 2021 we presented
two
offers featuring the fast-playing and flexible
Icons Superpowered Roleplaying
by
Steve Kenson
(designer of
Mutants & Masterminds
) from
Ad Infinitum Adventures
. Along with the revived June 2016
Icons Bundle
, we presented an all-new sidekick,
Icons Universe.
With
Icons
Steve goes for speed: random character creation (or pick from zillions of premade characters), flexible powers, and abstract, slam-bang 1d6-based combat.
Icons
works well for both one-shot adventures and long campaigns, and its extensive line of four-color adventures captures the spirit of the Silver Age of Comics and shows like
Batman: The Animated Adventures. Icons
is a spiritual successor to
Marvel Super Heroes
by way of
Fudge
and
Fate.
You won't find exhaustive details or situational rules, and there's no built-in setting beyond "the world of comic book superheroes." Mix and match heroes and villains from
Icons
books, other games, your favorite comics, and your own imagination. The
Icons
system provides a balancing mechanism so any group of heroes can work on relatively even footing.
ICONS [from June 2016]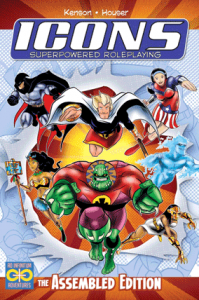 This resurrected June 2016
Icons
Bundle once again provided the core rulebooks and key supplements —
everything you need
for anything from a pick-up game to a complete four-color campaign. If you're new to the game,
start here.
There were
eight
titles in this revived offer's
Player Collection
(retail value
$67),
including the comprehensive full-color 232-page
Icons: The Assembled Edition corebook
, the
Great Power
sourcebook, five
Hero Packs
with a total of
260
fully statted, ready-to-play characters, and the
Game Master's Screen
.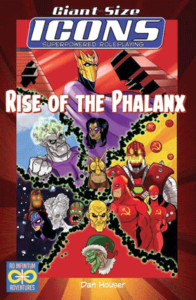 This revival's
Game Master Collection
added
nine
more sourcebooks and adventures worth an additional
$62:
ICONS UNIVERSE [all-new]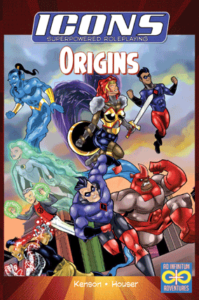 Okay, technically there's no
Icons
"universe" in the usual comic-book sense — but this all-new
Icons Universe
offer of recent sourcebooks and adventures let you build your own four-color campaign setting with enough attractions to draw the interest of the greedy Corsair Queen or conceivably even Professor Hominid. There were
five
titles in this offer's
Starter Collection
(retail value
$38)
, including
Icons Origins
,
Hero Pack Annual 1
, and three fast-paced adventures in the high-spirited Silver Age style:
Gladiator Pits of Gorn
,
The Terror of Tiki Pterodactyl
, and
Dawn of the Daikaiju
. This offer's
Bonus Collection
added
six
more titles worth an additional
$46,
including
Icons Presents
,
Menagerie
,
Rogues
, and three more slam-bang adventures:
Polar Vortex
,
Menace of the Man o' Lantern
, and
Sins of the Past Revisited
.