Mythras Settings
Monday 24 May 2021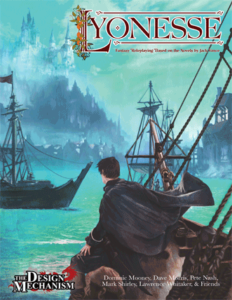 In May 2021 we presented the new
Mythras Settings Bundle,
featuring
Lyonesse, Luther Arkwright,
and other new frontiers for
Mythras
from
The Design Mechanism
.
Mythras
has shown up often in Bundle of Holding history. We first presented
Mythras
in April 2018 — well, no, technically in February and December 2014 we presented its primordial form,
RuneQuest
6. Even that early offer displayed the system's wide range, with supplements and adventures featuring swords and sorcery, history and myth, science fiction and urban horror. In August 2019 our
Mythras
Worlds offer showed off the game's extended range, with
Mythic Constantinople, After the Vampire Wars,
and several supplements set in The Design Mechanism's world of Thennla. Still
Mythras
keeps finding new directions, and this new Settings offer showcased several recent explorations.
Lyonesse
is based on the masterful trilogy of high fantasy novels by
Jack Vance
, author of
The Dying Earth
books. The
Lyonesse Trilogy
—
Suldrun's Garden
(1983),
The Green Pearl
(1985), and
Madouc
(1989) — chronicles conquest, revenge, political intrigue, and sorcerous rivalries in the foredoomed Elder Isles, a baroquely detailed medieval land now lost beneath the Atlantic. In 2020 The Design Mechanism adapted the
Mythras
rules for a beautifully produced standalone rulebook and two adventures.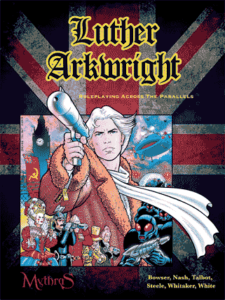 Luther Arkwright: Roleplaying Across the Parallels
(2015) is a
RuneQuest
/
Mythras
campaign supplement based on Bryan Talbot's nine-issue comic series
The Adventures of Luther Arkwright
(1978-89). Like Arkwright, players travel the multiverse as agents of the Valhalla Project in Parallel ZeroZero. Use expanded
Mythras
rules for psionics, technology, firearms, vehicles, sanity, and more to uncover malign Disruptor influence in countless parallel timelines.
On
Monster Island
(2013) you explore forgotten jungles, search for forgotten ruins filled with gold, and discover foul temples infested with lizard cultists. You can drop the island into almost any
Mythras
campaign for many kinds of adventures from swords-&-sorcery to 1930s two-fisted pulp. The 198-page setting book provides a complete campaign good for years of play.
Monster Island
's lineage traces back to
RuneQuest
's venerable
Griffin Mountain
(later
Griffin Island
) — at the time of its publication in 1981, the largest adventure ever published, and still one of the best.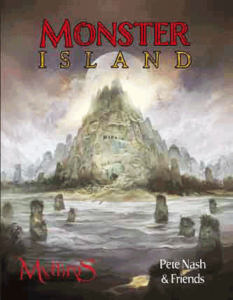 There were
six
titles in our
Starter Collection
(retail value
$47)
as DRM-free .PDF ebooks, including the complete 304-page
Mythras core rulebook
(previously in our April 2018
Mythras
Core offer), the
Mythras Companion
rules expansion, two
Combat Modules
(
Take Cover
and
Breaking the Habit
), and the sprawling jungle-hell sword-and-sorcery sandbox
Monster Island
, along with its
Monster Island Companion
.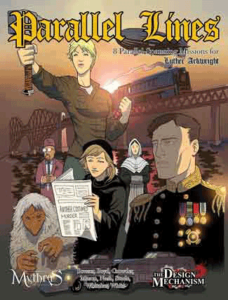 Our
Bonus Collection
added
five
more titles worth an additional
$50,
including the standalone
Lyonesse roleplaying game core rulebook
; the
Lyonesse
adventures
In High Dudgeon
and
Coddefut's Stipule
; and the licensed
Luther Arkwright: Roleplaying Across the Parallels
worldbook, along with its eight-scenario campaign
Luther Arkwright: Parallel Lines
.
Ten percent of each payment (after gateway fees) went to this
Mythras
offer's pandemic-related charity,
Direct Relief
. Direct Relief gets protective gear and critical care medications to health workers, with emergency deliveries to medical facilities across the US and to regional response agencies across the world.