The Cthulhu Hack
Monday 4 October 2021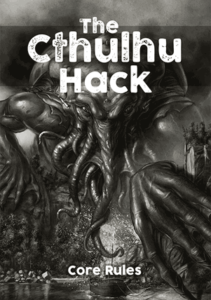 In October 2021 we began the year's "October Horrors" sequence of horror RPG offers with the all-new
Cthulhu Hack Bundle,
featuring
The Cthulhu Hack
from
Just Crunch Games
. This quick and simple standalone investigative RPG, based on David Black's minimalist fantasy RPG
The Black Hack
, pits ordinary people against the sanity-shattering horrors of the
Cthulhu Mythos
. There are just two basic mechanics — Saves and Resources — and just two vital resource types: Flashlights (for spotting things, recalling facts, and research) and Smokes (for eavesdropping, fast talk, coercion, and bribery). Every use always brings a clue, so even a low roll won't leave you without options.
The Cthulhu Hack
elegantly supports published scenarios and campaigns for any Cthulhoid RPG. Learn the whole system in 20 minutes, teach it to your players in five minutes more, and in another five their characters will be ready for a slow spiral into self-destruction. You'll never find a simpler and smoother path to the mind-shattering realization of humanity's cosmic insignificance.
This offer also presented the core rulebook for the new Just Crunch RPG
The Dee Sanction
. In 16th-Century England, you're a disreputable amateur Agent for occultist Doctor John Dee, hunting supernatural threats and hoping for a pardon.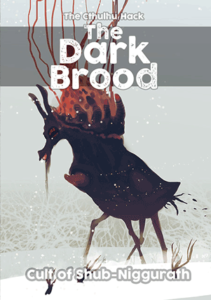 There were
seven
titles in our
Starter Collection
(retail value
$25)
as DRM-free .PDF ebooks, including the complete
Cthulhu Hack Core Book
(plus the
Gamemaster's Reference
and the free
Nocturnal Rites Quickstart
);
The Dark Brood
, about Shub-Niggurath; the short campaign
Forgotten Duty
; and three
Hack
mini-sourcebooks:
From Unformed Realms
,
Rhan-Tegoth
, and
Strange Materials
.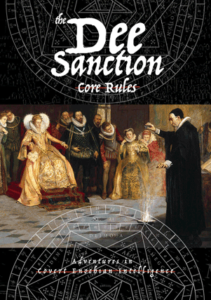 Those who paid more than the threshold (average) price 
also
got our entire
Bonus Collection
with
six
more titles worth an additional
$52.50,
including
The Dee Sanction core rulebook
along with five
Hack
scenario collections that gather no less than
nine
complete investigations:
The Haunter of the Dark
,
Mother's Love
,
Three Faces of the Wendigo
,
Thro' Centuries Fixed
, and
Valkyrie Nine
.
Ten percent of each purchase (after gateway fees) went to the charity designated by
Cthulhu Hack
designer Paul Baldowski,
Beechwood Cancer Care
. Beechwood offers free support to United Kingdom residents living with a life-limiting illness and to their loved ones.