Goodman Gems (Aug 2019)
Wednesday 26 January 2022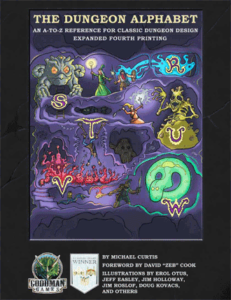 In January 2022 we resurrected the August 2019
Goodman Gems Bundle,
featuring
The Dungeon Alphabet
and other system-neutral FRPG sourcebooks from
Goodman Games
.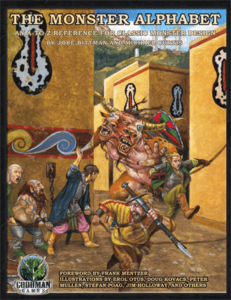 Joseph Goodman publishes a stellar series of entertaining and inspirational system-neutral supplements that have become seminal works of the
Old School Revival
. Foremost of these is the venerable
Dungeon Alphabet
, an alphabetic compendium now in its fourth edition, funded in a
November 2017 Kickstarter campaign
.
The Dungeon Alphabet,
its companion sourcebooks
The Monster Alphabet
and
The Cthulhu Alphabet,
and other Goodman titles help OSR gamemasters rethink their games at a fundamental level. This revived
Goodman Gems
offer once again gathered much-loved supplements that present new character backgrounds, locations, setting elements, monsters, a yearlong calendar, and two — no! now it's
three!
— marvelous trips through the alphabet.
There were
four
system-neutral supplements in this revived offer's
Starter Collection
(retail value
$37)
as DRM-free .PDF ebooks, including
The Adventurer's Almanac
, a one-year calendar to organize your campaign around seasonal events and a fantastical astrology system; a book of character design tips,
PC Pearls
, and the companion tips book for gamemasters,
GM Gems
; and a handy
DM Campaign Tracker
.
Those who paid more than the threshold (average) price
also
got this revival's entire
Bonus Collection
with
five
more sourcebooks worth an additional
$57:
Those who bought this
Goodman Gems
offer during its original August 2019 run
automatically received the new Cthulhu Alphabet and D50 titles
on their Wizard's Cabinet download page on the Bundle site and in their linked DriveThruRPG Library. When you buy a Bundle of Holding early, you never miss titles added later — even
much
later.
Ten percent of each payment (after gateway fees) for this Goodman Gems revival went to the charity designated by Joseph Goodman, the
San Francisco-Marin Food Bank
. For more than 30 years the SF-Marin Food Bank has worked to end hunger in the San Francisco Bay Area, where one in four neighbors is at risk of hunger.