Brave New World – superheroic Civil War
Monday 2 May 2016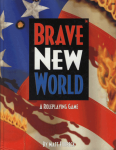 In May 2016
we presented the
Brave New World Bundle
featuring
Brave New World
,
Matt Forbeck
's 1999 tabletop roleplaying game from
Alderac Entertainment
. After the American dream died in 1963 when terrorists assassinated Jacqueline Kennedy, and the Bicentennial Battle destroyed Chicago in 1976, the USA of
Brave New World
is a battleground where superheroes, or "deltas," fight a fascist government.
This collection presented the
entire
BNW
game line —
everything you need
to wage your own superpowered
Civil War
in the style of comics like
Kingdom Come, Marshal Law,
and
American Flagg!
Our
Starter Collection
included
four
titles (retail value
$57)
as DRM-free .PDF ebooks:
Brave New World corebook (retail price $18): Matt Forbeck's complete 209-page rulebook that introduces this intriguing superhero setting.
Ravaged Planet (retail $15): The player's guide to the world of this alternate-history 1999.
Delta Prime and Defiants (retail $12 each): The sourcebooks for government deltas and the rebels who fight them.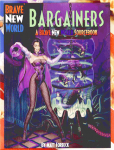 Those who paid more than the threshold (average) price
also
got our entire
Bonus Collection
with
six
more titles (retail value
$75):
Bargainers and Covenant (retail $12 each): Character sourcebooks for two opposing forces: the deltas who broker deals with demonic forces, and the super-agents of the Catholic Church.
Crescent City (retail $12): From the ruins of Chicago rose this amazing high-tech city, home to more deltas than anywhere else.
Evil Unlimited (retail $12): If you want to use your super-powers to make a fortune, go to these guys.
Glory Days (retail $15): The World War II era sourcebook for Brave New World — a time before it all went bad.
Brave New World: Omnibus (retail $12): The complete BNW novel trilogy (Revolution, Revelation, and Resolution) by the RPG's designer, Matt Forbeck.
That's a
US$132
retail value, a haul worthy of Evil Unlimited for a price within reach of even the desperate Defiance revolutionaries. Ten percent of each payment (after gateway fees) went to this offer's designated charity,
Human Rights Watch
.