Bundle of Tentacles +4 – all-new Mythos gaming
Friday 28 October 2016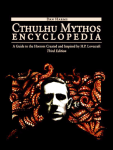 As Halloween 2016 loomed in the United States, we concluded the year's "October Horrors" sequence in the traditional way with the
Bundle of Tentacles +4
, our fourth annual all-new collection of scenarios and play aids for Chaosium's
Call of Cthulhu
RPG inspired by
H. P. Lovecraft
's
Cthulhu Mythos
. This year's collection included several volumes from Miskatonic River Press, new adventures from Goodman Games and Rogue Genius, Arc Dream's Cthulhu Mythos Encyclopedia, and a neat set of .PDF templates that let you create your own Jazz Age newspaper props.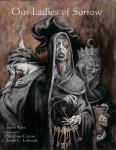 There were 
four
titles in our
Starter Collection
(retail value
$51
), presented as DRM-free ebooks in .PDF or ePub format:
Our Ladies of Sorrow (Miskatonic River Press retail price $25): Three ghostly scenarios by Kevin Ross (Kingsport).
Starfall Over the Plateau of Leng (Goodman Games, retail $11): An Age of Cthulhu investigation that leads to the frozen north of the Dreamlands.
Goblin on Bourbon Street (Golden Goblin Press, retail $5): A convention scenario by Oscar Rios set in a secret New Orleans bookshop with an unusual statuette.
Cthulhu Mythos Encyclopedia (Arc Dream Publishing, retail $10): A comprehensive 400-page compendium by Daniel Harms of many, many Mythos references. Presented in ePub and .mobi formats.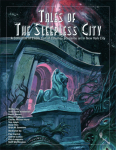 Those who paid more than the threshold (average) price 
gained Sanity
and
also
got our entire
Bonus Collection
with
five
more titles (retail value
$62):
New Tales of the Miskatonic Valley and Tales of the Sleepless City (Miskatonic River Press, retail $22 each): Two mammoth scenario collections (edited by the late Keith Herber, longtime CoC developer) set in Lovecraft Country and New York City.
A Peculiar Pentad (Rogue Genius Games, retail $6): Five shops that provide your investigators what they need — for a price.
Mutable Deceptions 1: Jazz Age Newspapers (Cthulhu Reborn, retail $6): Outstanding .PDF templates for Adobe Reader that let you create your own Jazz Age newspaper clippings as clues for Call of Cthulhu or any 1920s game.
After Lovecraft: The Horror at Red Hook – The Cold Case of Robert Suydam (Rogue Genius, retail $6): A creepy child-hunting scenario set ten years after the events of HPL's story "The Horror at Red Hook." Includes the complete text of the story.
To pass up this total retail value of
US$113
would have been 
insane!
Ten percent of each payment (after gateway fees) went to this offer's designated charity, the
Electronic Frontier Foundation
.