Valiant Universe – superheroic roleplaying plus comics!
Tuesday 6 December 2016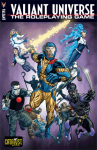 In December 2016 we presented the
Valiant Universe Bundle
, a huge collection featuring the
Catalyst Game Labs
RPG
Valiant Universe
and also — for the first time in Bundle of Holding history — the
Valiant Entertainment comics line
that inspired it.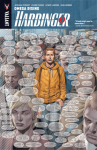 Catalyst's
Valiant Universe: The Roleplaying Game
is set in
Valiant Entertainment
's superhero universe presented across numerous comic book titles, including
Archer & Armstrong, Bloodshot, Harbinger, Ninjak, Quantum and Woody, Shadowman, X-O Manowar,
and more. The Valiant line was designed from the ground up as a unified universe that shares characters, organizations, and so on across all its titles. The Valiant Universe spans millennia, where decisions made at the dawn of time ripple into the distant future and today's heroes can be tomorrow's villains. This universe provides dark and gritty stories you bring to life at the gaming table.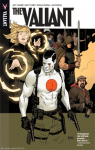 You can be a H.A.R.D. Corps team hunting down dangerous psiots — a Renegade fighting against the "evil" Harbinger Foundation trying to conquer the world — even a true believer of the Harbinger Foundation, dedicated to making the world a true utopia at any cost. Or maybe you're Generation Zero psiots that have no memory of a childhood before the isolation and guinea-pig testing of Project Rising Spirit and are suddenly free in the world. Or you could become brand-new heroes (or villains). Gameplay possibilities in the Valiant Universe are limitless.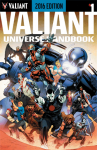 There were 
six
titles in our
Starter Collection
(retail value
$48)
 presented as DRM-free .PDF ebooks, including the complete
Valiant Universe: The Roleplaying Game
and the
Valiant Universe Handbook 2016
, along with
four
big comics collections that introduce many key characters in the Valiant Universe:
Archer & Armstrong, Harbinger, X-O Manowar,
and
Quantum and Woody.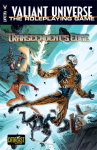 Those who paid more than the threshold (average) price 
also
got our entire
Bonus Collection
with
nine 
more titles (retail value
$86
), including the
Valiant Universe RPG
supplement
Transcendent's Edge
(retail $10) and eight more Valiant comics collections introducing
The Valiant, Ivar Timewalker, Ninjak, UNITY, Rai, Shadowman,
Bloodshot,
and
Eternal Warrior.
It was a total retail value of
US$134!
Ten percent of each purchase (after gateway fees) went to this offer's designated charity,
The Hero Initiative
, which supports veteran comics creators in time of need.