Advanced Adventures – Old School dungeon-crawls
Wednesday 8 February 2017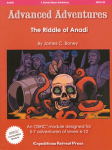 In February 2017 we presented the
Advanced Adventures Bundle
featuring Old School dungeon crawls from
Expeditious Retreat Press
. The long-running
Advanced Adventures
series is one of the most popular lines founded in the early days of the
Old School Revival
. These short adventure modules are easy to run, ready to play, and fit easily into any ongoing fantasy RPG campaign. They're nominally written for
OSRIC
, the free "Old School Reference & Index Compilation" OGL retro-clone of (as OSR designers must coyly phrase it) "the world's most popular fantasy roleplaying game."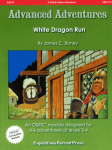 For this offer Expeditious Retreat owner Joseph Browning selected over a dozen top
AA
modules, grouped here by theme and character level, that let your player characters ramp smoothly from level-1 zeroes to level-10 heroes. There were 
six
adventures in our
Starter Collection
(retail value
$37
), all presented as DRM-free .PDFs, including the
First Frontiers
set of introductory modules (AA28
Redtooth Ridge,
AA30
To End the Rising,
and AA13
White Dragon Run,
retail price $6 each) and the
Shadowvein
trilogy for levels 2-5: AA01
The Pod-Caverns of the Sinister Shroom
(retail $6), AA23
Down the Shadowvein
(retail $7), and AA24
The Mouth of the Shadowvein
(retail $6). (We previously presented
Pod-Caverns
in the November 2015 Old School Revival +4.)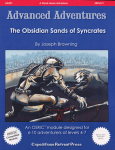 Those who paid more than the threshold price 
also
received our entire
Bonus Collection
with
nine 
more modules worth an additional
$56:
Three modules of Arcane Weirdness for levels 3-6: AA17 The Frozen Wave Satsuma, AA06 Chasm of the Damned, and AA26 The Witch Mounds (retail $6 apiece)
Tournament module AA21 Obsidian Sands of Syncrates (levels 4-7, retail $7)
Two Straight-Up Dungeon Crawls for levels 5-10: AA12 The Barrow Mound of Gravemoor and AA03 The Curse of the Witch Head (retail $6 apiece)
Two Serious Challenges for levels 6-10: AA10 The Lost Keys of Solitude and AA20 The Riddle of Anadi (retail $6 apiece)
NEW! AA15 Stonesky Delve (retail $7): A tournament module from Gen Con 2010 set in a dwarven mountain wracked by civil war
That's a
US$93
 value, the kind of hoard you'd find deep in a well-stocked dungeon. Ten percent of each payment (after gateway fees) went to this offer's designated charity,
Reading is Fundamental
.