The Dark Eye FRPG
Tuesday 30 January 2018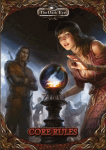 In January 2018 we presented 
The Dark Eye Bundle,
featuring the English-language edition from
Ulisses Spiele North America
of the leading German RPG of heroic fantasy in the realm of Aventuria.
The Dark Eye
is Germany's premier FRPG, in continuous publication for more than 30 years. As a heroic adventurer on the island continent of Aventuria, you'll rebuild the war-weary Middenrealm, marvel at the Lands of the Tulamydes, discover lost ruins in steaming jungle, or drive back the evil of the Shadowlands. Rescue innocent victims from cults of the Nameless One — navigate the intrigues at the Court of the Empress — or defend border cities from the Orc Storm.
(
The Dark Eye
derives its name from the most intriguing magical artifacts in Aventuria — the Dark Eyes. These rare and powerful magical items, constructed from raw meteoritic iron, let users view faraway places and glimpse scenes from the distant past.)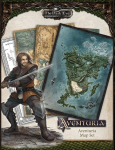 Ulisses funded new English translations of much of
the Dark Eye product line
in a spectacular
May 2016 Kickstarter campaign
. Tthis bargain-priced offer had 
everything you need
to explore Aventuria, a rich and believable setting inspired by Europe's medieval lore, forbidding landscapes, and fairytale castles.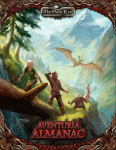 There were 
five
titles in our
Player Collection
(retail value
$46.50)
: the complete full-color 418-page
The Dark Eye
core rulebook (retail price $20) (and the free
Quickstart Rules
), plus the
Aventuria Almanac
(retail $10),
Aventuria Map Set
(retail $10), and the
Character Sheets Pack
(retail $2.50). — and after launch we added
The Dark Eye Figure Flats
(retail $4), with dozens of full-color trifold print-and-cut miniatures of people, creatures, and monsters.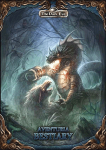 Those who paid more than the threshold (average) price 
also
got our entire
Game Master Collection
with
nine
more titles worth an additional
$57.50,
including the
Aventurian Bestiary
(retail $10.50), the full-length introductory adventure
Revelations From Heaven
(retail $10) and three short
Heroic Works
scenarios (
A Goblin More or Less
,
Kibakadabra
, and
The Molted Serpent
, total retail $13.50), plus
The Dark Eye Game Master Screen
with its accompanying
Inns & Taverns
booklet (retail $10). After launch we added three more short
Heroic Works
scenarios (total retail $13.50) —
The Thorwal Drum
,
Witch's Dance
, and
Emperor of Thieves
.
Ten percent of each payment (after gateway fees) was split evenly between the two charities designated by
The Dark Eye
publisher Ulisses Spiele:
Doctors Without Borders
and
Bärenherz
, a local home for terminally ill children in Wiesbaden, Germany.