Trinity 1E & Aberrant – Trinity Universe RPGs
Tuesday 15 January 2019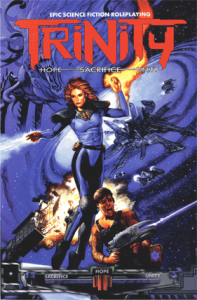 In January 2019 we presented 
two
all-new offers of White Wolf's
Storyteller System
games set in the
Trinity Universe
. First, the
Trinity 1E Bundle
 presented the 1997 First Edition of the SFRPG of hope and sacrifice in the 22nd Century. And the
Aberrant Bundle
showed the origin of
Trinity
's devastating Aberrant War.
Trinity 1E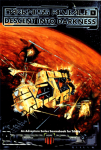 Originally published by
White Wolf
(and destined to reappear in a new edition from
Onyx Path Publishing
under its original title,
Æon
),
Trinity
depicts humanity recovering from a devastating war against superhuman mutants called Aberrants. World powers include South America, East Asia, Africa, and the Moon; North America and Europe remain a shambles. Players are psions (bioengineered human psychics), members of the six Psion Orders that safeguard humanity on Earth and on its long-lost interstellar colonies. Projecting an optimistic tone unusual for White Wolf,
Trinity
permits a broad range of adventures, from cyberpunk-style corporate heists to post-holocaust scrounging to space exploration. The large and varied
Trinity
1E support line includes early work by Jenna Moran (
Nobilis
), Greg Stolze (
Unknown Armies
), and other noted designers.
White Wolf Publishing released
Trinity
in a spiral-bound limited edition as
Æon
in October 1997. When Viacom claimed the title infringed on its
Aeon Flux
TV show trademark, White Wolf renamed the game. The
Trinity
limited-edition hardcover appeared in November 1997, then the softcover in March 1999. The .PDF rulebook in this
Trinity 1E Bundle
 was based on the softcover.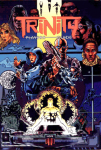 There were 
five
titles in this offer's
Starter Collection
(retail value
$44)
as DRM-free .PDF ebooks, including the complete 324-page
Trinity First Edition core rulebook
, the
Trinity Players Guide
for 1E, the
Technology Manual
, and two Psi Order sourcebooks (
America Offline
and
Shattered Europe
).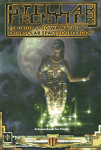 Those who paid more than this offer's threshold (average) price 
also
got this offer's entire
Bonus Collection
with
eight
more supplements worth an additional
$80,
including three more Psi Order sourcebooks (
Terra Verde
,
Luna Rising
, and
Stellar Frontier
), the complete
Darkness Revealed
trilogy of adventures (
1: Descent into Darkness
,
2. Passage Through Shadow
, and
3. Ascent into Light
), and three short Field Reports (
Extrasolar Colonies
,
Media
, and
Psi Laws
).
2. Aberrant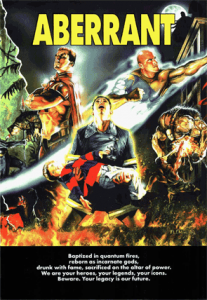 Set in the near-future year of 2008, ten years after radiation from the exploding
Galatea
satellite triggered bizarre powers in a small fraction of Earth's population,
Aberrant
(1999) chronicles the struggles of these "novas," or "new humans," and their quest to fit into — or forever change — human society. Though some novas become vastly smarter, they grow no wiser. Instead, most of them become the center of celebrity cults, to their ultimate detriment. Setting the stage for the war that will blight the 22nd Century,
Aberrant
darkly deconstructs superheroes in the 1980s-90s manner of
Watchmen
and
newuniversal
.
White Wolf
originally published
Aberrant
as the second game set in the Trinity Universe. Like
Trinity,
Aberrant
is getting a new edition from
Onyx Path
. The new version is designed by superhero star Steve Kenson (
ICONS, Mutants & Masterminds, DC Adventures
).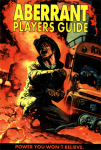 This bargain-priced offer had 
everything you need
to become a quantum-powered metahuman with the power to reshape society. There were 
three
titles in this offer's
Starter Collection
(retail value
$50),
including the complete 298-page
Aberrant rulebook
and
Players Guide
, plus the
Storytellers Screen
with its three-episode introductory story, "Permanent Vacation."
This offer's 
Bonus Collection
 added 
five
more supplements worth an additional
$74,
including the baseline setting book
Year One
, the sourcebooks
Elites
(about super-powered mercenaries) and
Teragen
(the conspiracy that eventually starts the Aberrant War), and the scenario collection
Worldwide: Phase II
, which advances the timeline to the breathtaking future of 2015. After launch we added
Adventure!
, the slam-bang pulp-era game that starts the Trinity Continuum timeline. (Previously presented in our May 2016 Pulp Adventure Bundle.)
Most of the .PDFs in both these offers were image scans of the original hardcopies with OCR applied. Scan quality of several early titles is okay-to-good. Text is almost always copiable. Later titles in the
Trinity
line, such as the Field Reports, are crisp and colorful.
Ten percent of each payment (after gateway fees) went to these two Trinity Universe offers' designated charity, the
Bodhana Group
.