Savage Heroes – Fear Agent – Goon – Sixth Gun – Solomon Kane
Monday 15 July 2019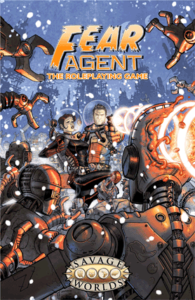 In July 2019 we presented the
Savage Heroes Bundle,
featuring no less than
four
licensed
Savage Worlds
settings — and just about their
complete
product lines, too — from
Pinnacle Entertainment
. Based on three long-running comics and a Robert E. Howard pulp classic, these savage worlds span time and space.
Pinnacle has run many successful Kickstarters to fund new
Savage Worlds
settings, and over time the company has refined these crowdfunding efforts to a fine edge. Each campaign funds a well-conceived package of core setting book, pregen characters, adventure, play aids, and freebies. The space-opera comic
Fear Agent
™ by Rick Remender and Tony Moore spawned an RPG setting funded in a
March 2017 Kickstarter
that ran in parallel with
another Kickstarter
adapting
The Goon
,™ the zombie-robot-changeling noir comic by Eric Powell. Earlier, Pinnacle ran a
May 2015 Kickstarter
to fund its RPG adaptation of the Weird West comic
The Sixth Gun
® by Cullen Bunn & Brian Hurtt. Most venerable of these settings (and predating Kickstarter's rise) is the 2007
The Savage World of Solomon Kane
, based on Robert E. Howard's wandering Puritan monster-hunter.
There were
five
reulebooks in our
Corebook Collection
(retail value
$75)
: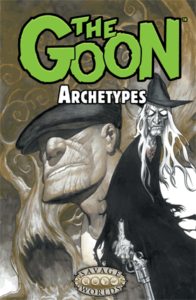 Those who paid more than the threshold (average) price 
also
got our entire
Expanded Collection
with
fifteen
more titles worth an additional
$81,
including basically
all the important supplements
for
all these games:
Ten percent of each payment (after gateway fees) went to the charity chosen by Shane Hensley of Pinnacle Entertainment, the
National Center for Missing and Exploited Children
.