Cthulhu Confidential
Monday 27 April 2020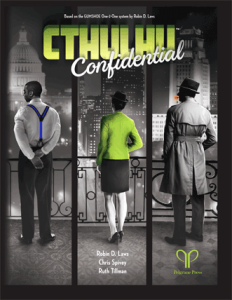 In April 2020 you had to fight alone against monstrous adversaries in our
Cthulhu Confidential Bundle,
a comprehensive collection of the
GUMSHOE One-2-One
game lines from
Pelgrane Press
. Guided by a Game Moderator, one solitary player becomes the sole protagonist in suspenseful investigative adventures — noir nightscapes right out of the Cthulhu Mythos and superspy espionage.
One-2-One
is a fast-paced head-to-head version of the popular
GUMSHOE system
by
Robin D. Laws
. GUMSHOE games are designed for scenarios of detection and crime-solving. In a typical RPG, bad skill rolls may mean you miss a vital clue and send the entire investigation off track. In the GUMSHOE System, the player
will
find the clues; the important thing is figuring out what they mean. Play a mystery scenario in a GUMSHOE game and you'll never go back.
This bundle presented the entire
One-2-One
line for a bargain price. There were 
four
titles in our
Starter Collection
(retail value
$46)
as DRM-free .PDF ebooks, including the complete standalone 328-page
Cthulhu Confidential
rulebook (previously presented in our February 2018 Bundle for Two 2) and three investigations:
The Howling Fog
,
The House Up in the Hills
, and
One For the Money
.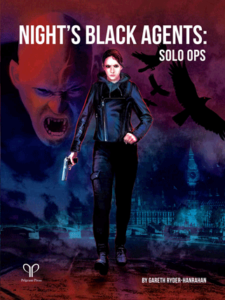 Those who paid more than the threshold (average) price
also
got our entire
Bonus Collection
with
five
more titles worth an additional
$53,
including the complete 282-page rulebook for
Solo Ops
, Gareth Ryder-Hanrahan's standalone adaptation of Kenneth Hite's vampire-espionage GUMSHOE game
Night's Black Agents
; the first
Solo Ops
investigation,
The Best of Intentions
; and three more
Cthulhu Confidential
adventures:
High Voltage Kill
,
Ex Astoria
, and
The Shadow Over Washington
.
Ten percent of each payment (after gateway fees) went to the pandemic-related charity chosen by Pelgrane Press co-owners Cathriona Tobin and Simon Rogers,
Cochrane Reports
. Cochrane maintains a
Covid-19 resource page
for policy developers that describes up-to-date clinical best practices in multiple languages.