Palladium Mutants and Ninjas
Monday 25 January 2021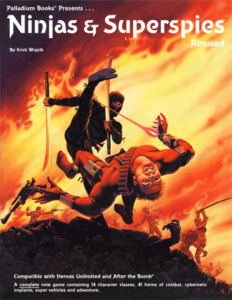 In January 2021 we present the
Palladium Mutants and Ninjas Bundle,
featuring the
After the Bomb
and
Ninjas & Superspies
game lines from
Palladium Books
. Designed by the late
Erick Wucjik
(
Amber Diceless Roleplaying
), these 1980s mutant and ninja RPGs and supplements remain some of the finest books Palladium has published. This new offer gathered
Ninjas
and its standout companion
Mystic China,
along with the entire
After the Bomb
product line, for a bargain price.
There were 
nine
titles in our
Starter Collection
(retail value
$78)
as DRM-free .PDF ebooks, including the complete
Ninjas & Superspies Revised Edition core rulebook
(1990) of martial arts and espionage action; the
After the Bomb 1E
(1986) and
After the Bomb 2E
(2001) rulebooks, about a post-holocaust Earth ruled by intelligent animals; the road-warrior sourcebook
Road Hogs
; and five issues (#3-7) of Palladium's in-house magazine,
The Rifter
, with
Ninjas
articles and scenarios.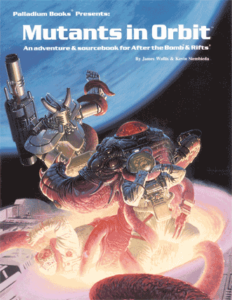 Those who paid more than the threshold (average) price 
also
got our entire
Bonus Collection
with
thirteen
more titles worth an additional
$98.50:
Mystic China: Erick's well-regarded Ninjas sourcebook and supplement for the supernatural East.
Five more After the Bomb supplements: Mutants in Orbit, Mutants Down Under, Mutants of the Yucatan, Adventures in the Yucatan, and Mutants in Avalon — the last is an early work by James Wallis (Baron Munchausen).
Four more issues of The Rifter (#14, 16, 25, 50) with Ninjas & Superspies articles, plus three issues (#41, 61, 77) with After the Bomb material. (#50 has previously appeared in the April 2019 Phase World Bundle.)
Ten percent of each payment (after gateway fees) went to the charity designated by Palladium's Kevin Siembieda, the
National Center for Missing and Exploited Children
. The Center provides services, resources, and technical assistance to child victims, their families, and the professionals who serve them.