Dark Places & Demogorgons
Monday 14 June 2021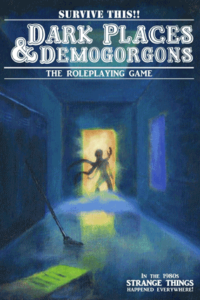 In June 2021 we presented the
Dark Places & Demogorgons Bundle
 featuring
Dark Places & Demogorgons
, the 2017 horror RPG of 1980s monster-of-the-week weirdness a la
The Goonies, E.T., Weird Science,
and
Buffy.
Amid sinister events in tiny Jeffersontown, Kentucky, your intrepid teen investigators — nerds, jocks, geeks, goths, punks, hoods, and the occasional teen wolf — face supernatural perils, meddlesome adults, clueless cops, and the horrifying ordeals of adolescence. YouTuber Ivan Podgwaite (
IvanMike1968
) calls
Dark Places & Demogorgons
"an unholy mixture of
The Breakfast Club
and
Scooby-Doo.
"
Designed by Eric Bloat of the memorably named
Bloat Games
,
Demogorgons
uses the
Survive This!
rules system, a fast-playing fusion of
Old School Revival
spirit with modern rules inspired by
D&D
Fifth Edition. This past April, Eric Kickstarted a 1990s Grunge-era spiritual sequel to
Dark Places,
We Die Young
.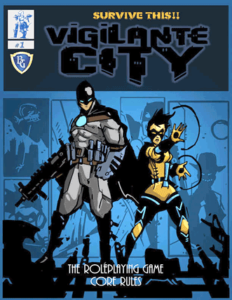 This bargain-priced offer presented most of the
DP&D
game line along with its companion
Survive
RPG of street-level superheroes,
Vigilante City
. There were
seven
titles in our
Starter Collection
(retail value
$47)
as DRM-free .PDF ebooks, including the complete
Dark Places & Demogorgons core rulebook
(plus its
Player Options & GM Guide
and
GM Screen Inserts
); the
Survive This
version of the
Vigilante City Core Rules
and its essential companion, the
Vigilante City Villain Guide
; and the
Dark Places
rules supplement
Martial Arts Mayhem
.
(Runehammer Games has adapted
Vigilante City
for its
Index Card RPG system
, and this past March we presented that version in our
Index Card RPG
Bundle. This offer presented the original
Survive This
version.)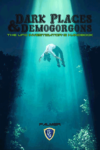 Those who paid more than the threshold (average) price 
also
got our entire
Bonus Collection
with
nine
more titles worth an additional
$57.50,
including the modern OSR bestiary
Dark Places Cryptid Manual
; two
Dark Places
setting guides,
Santa Muerte
and
Jeffersontown
; four monster-hunting sourcebooks (
Vampire Sourcebook
,
Werewolf Sourcebook
,
UFO Investigator's Handbook
, and
Ghost Hunter's Handbook
); and two
Vigilante City
supplements,
Superhero Team-Up
and
Into the Sewers
.
Ten percent of each payment (after gateway fees) went to this offer's pandemic-related charity,
Direct Relief
. Direct Relief gets protective gear and critical care medications to health workers, with emergency deliveries to medical facilities across the US and to regional response agencies across the world.