Night Shade Best Horror – through Wed 27 Oct
Wednesday 6 October 2021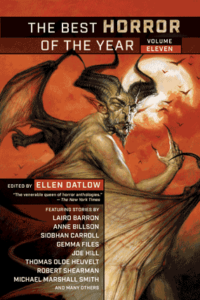 Through
Wednesday, October 27
the
October Horrors
continue as we present the
Night Shade Best Horror Bundle
featuring editor
Ellen Datlow
's long-running
Best Horror of the Year
fiction anthology series from
Night Shade Books
. For more than three decades Ellen Datlow, winner of multiple Hugo, Bram Stoker, and World Fantasy awards, has kept her finger on the racing pulse of the horror genre, introducing readers to writers whose tales can unnerve, frighten, and terrify. This all-new offer brings you 13
Best Horror
anthologies with stories from Stephen King, Neil Gaiman, Tanith Lee, Joe R. Lansdale, Catherynne M. Valente, Kim Newman, and dozens more top authors —
five thousand pages
of bone-chilling reading for an unbeatable bargain price. (See below for the contents of each volume.)
Pay just
US$5.95
to get all
three
titles in our
Best Horror Sampler
(retail value
$50)
as complete, DRM-free ebooks in both Kindle and ePub formats, including the first two
Best Horror of the Year
volumes (from 2009 and 2010) and the tenth-anniversary retrospective
Best of the Best Horror of the Year,
with stories from the first ten volumes in the series.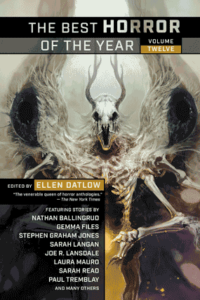 And if you pay more than the threshold (average) price, which is set at $19.95 to start, you'll
also
get our
Complete Collection
with
ten
more titles —
Best Horror of the Year
Volumes Three through Twelve (2011-2020) — worth an additional
$160.
Again, all these ebooks are presented in
both
Kindle and ePub formats.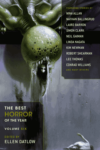 Ten percent of your payment (after gateway fees) goes to this offer's pandemic-related charity,
Direct Relief
. Direct Relief gets protective gear and critical care medications to health workers, with emergency deliveries to medical facilities across the US and Canada and to regional response agencies around the world.
Settle in for an October of terrifying reading with our new
Night Shade Best Horror Bundle
— before this offer bids a grim and grisly goodnight
Wednesday, October 27.
http://bundleofholding.com/presents/BestHorror
What's in the books?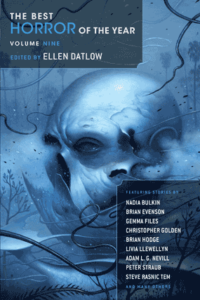 The
Internet Speculative Fiction Database
lists the contents of each of
Ellen Datlow's first dozen Best Horror of the Year anthologies
: