Arkadia – mythic Greek 5E fantasy
Monday 25 April 2022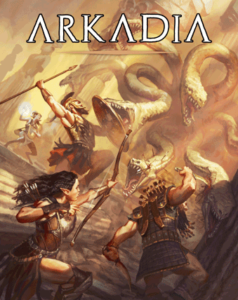 In April 2022 we presented the all-new
Arkadia Bundle
featuring
Arkadia
, the 5E fantasy campaign setting from
Arcana Games
inspired by mythic Greece. Strongly funded in an
August 2018 Kickstarter campaign
,
Arkadia
reimagines the glories of ancient Athens, Troy, and Sparta for Fifth Edition
D&D.
Play a Scyllaean elf, volcano dwarf, satyr, siren, gorgon, harpy, or centaur — become a gladiator, Amazon, hoplite warrior, seer of Fate, scion of a demigod, or servant of a dead Titan — venture across Hyperium, Kryta, and Illyria to fight hydras, krakens, cyclopes, undead pharaohs, and sphynxes — gain treasures like orichalcum weapons, ambrosia, Nemean pelts, Hyperion's javelin, and the Armor of the Colossus. Don a heroic panoply of bronze, take a trident or sarisa, board your trireme, and set forth on the path of heroes.
There were
three
titles in our
Arkadian Collection
(retail value
$40)
as DRM-free .PDF ebooks and MP3 music tracks, including the complete
Arkadia corebook
(plus the free
Minotaur Race
and
character sheets
), the 76-page campaign adventure
Fate of the Oracle
, and the ten-track
Music and Ambience soundtrack
.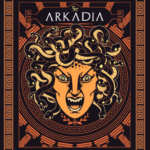 Ten percent of each payment (after gateway fees) went to this
Arkadia
offer's pandemic-related charity,
Direct Relief
. Direct Relief sends protective gear and critical care medications to health workers, with emergency deliveries to medical facilities across the US and to regional response agencies across the world.