Neon City Overdrive
Monday 23 May 2022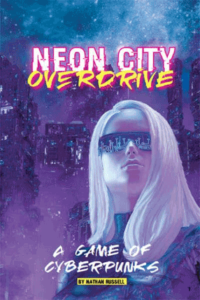 "If you're looking for a lean design that cuts like a monofilament whip and runs as fast as a Fairlight Excalibur, give this game a try." — Rob Wieland, "The Best Cyberpunk Game You're Not Playing Right Now,"
ENworld
In May 2022 we presented the
Neon City Overdrive Quick Deal
featuring the fast-playing cyberpunk SFRPG
Neon City Overdrive
from
Peril Planet
. Lightweight, quick-playing, and amazingly adaptive — it's based on
FU: Freeform Universal RPG
, with elements inspired by
Fate
and
Blades in the Dark
—
Neon City Overdrive
smoothly handles gritty near-future action. Whether your Trademark is Arcology Brat, Gene Farmed, Metroplexer, Joyrider, or Gutter Scum, you can be a Codeslinger, Jammer, Infiltrator, Grifter, or even a Paladin, with any kind of Skins, Cyberware, Edges, and gear you can think up. What matters is your Drive: why you keep hitting the streets, throwing yourself into danger, and pushing through the hard stuff.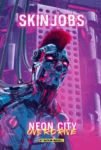 This Quick Deal included the entire
Neon City
line for an unbeatable bargain price. There were 
four
titles in our
Neon Collection
(retail value
$25)
as DRM-free .PDF ebooks, including the complete
Neon City Overdrive corebook
and all three supplements:
The Grid
,
Skinjobs
, and
Psions
.