Aces & Eights (Sept 2015) reloaded
Wednesday 22 June 2022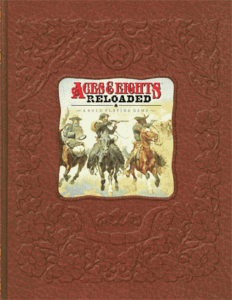 In June 2022 we revived (re-booted?) the September 2015
Aces & Eights Bundle
featuring
Aces & Eights
,
Kenzer & Company
's comprehensive RPG of life in America's Old West.
A&E's
Shattered Frontier is an alternate-history 1850s, where North America is broken into small, fractious nations. But apart from a slight acceleration in arms technology, there is no fantasy element; the setting aims for realism. In the game's poker chip-based brawling system, characters become winded, tired, or knocked senseless in a fight. The Shot Clock gunfight system uses targeting grids printed on transparent plastic overlays and placed on target silhouettes to identify hit locations. Beyond its realistically deadly combat,
Aces & Eights
presents a broad range of Old West life — as Kenzer puts it, "the rest of the Western movie adventure beyond the gunfight." Dozens of professions cover the full range of possibilities in the Wild West: gambler, politician, lawman, cowboy, rancher, outlaw, craftsman, saloonkeeper, merchant, etc. Characters can change professions at will. The system rewards players for pursuing professions and gives characters in-game incentives to do more than follow the outlaw trail. Modular mini-games cover everything from shootouts to cattle drives to jury trials. You can take any profession, pursue any goal;
Aces & Eights
is as wide open as the land itself.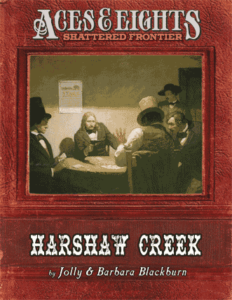 The original September 2015
Aces & Eights
Bundle presented the 2010
Shattered Frontier
edition of the
Aces & Eights
rulebook. For this revival Kenzer & Company kindly upgraded the corebook to the new 2018
Reloaded
edition, funded in an
April 2017 Kickstarter campaign
, and added a
Reloaded
location sourcebook,
Harshaw Creek.
All
previous purchasers of the original 2015 offer automatically received the newly added titles on their Wizard's Cabinet download page on the Bundle site. (The
Reloaded
rulebook and
Harshaw Creek
aren't available on DriveThruRPG.)
There were 
three
titles in this revived offer's
Player Collection
(retail value
$40)
as DRM-free .PDF ebooks, including the lavish 339-page
Aces & Eights Reloaded
core rulebook, the
Shootist's Guide
with extra Target Silhouettes, and the introductory solo adventure
Bad Day at Buena Roca
.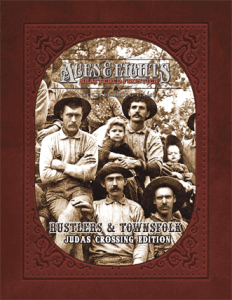 Those who paid more than this revived offer's threshold (average) price 
also
got this revival's entire
Gamemaster Collection
with
seven
more titles worth an additional
$100,
including the
Judas Crossing
location sourcebook, the
Rustlers & Townsfolk
and
Rustlers & Townsfolk: Judas Crossing Edition
books of nonplayer characters, and four complete adventures:
Trouble on the Sequoyah Star
,
Fool's Gold
,
Ghost Town
, and — newly added in this revival —
Harshaw Creek.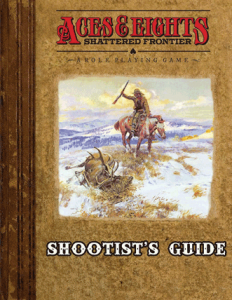 Ten percent of each payment (after gateway fees) went to this
Aces & Eights
offer's pandemic-related charity,
Direct Relief
. Direct Relief sends protective gear and critical care medications to health workers, with emergency deliveries to medical facilities across the US and to regional response agencies across the world.
Transparencies
The
Aces & Eights
combat system uses transparent Shot Clock and Shotgun targeting overlays. Print those .PDF pages onto
inkjet transparency sheets
such as 3M Recycled Inkjet Transparency Film or Apollo Transparency Film for Inkjet Printers, both available at office supply stores or on
Amazon
(affiliate link).