King Arthur Pendragon – more glorious than ever
Monday 15 December 2014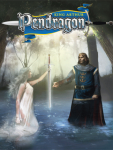 In December 2014 we revived our King Arthur Pendragon Bundle from the misty past of June 2014 — and it was more glorious than ever.
King Arthur Pendragon is one of the most honored and respected RPGs ever published. The crowning achievement of legendary designer Greg Stafford (founder of Chaosium and discoverer of Glorantha), Pendragon isn't just about adventuring in Arthurian Britain — it is a painstakingly researched, amazingly detailed game with mechanics built specifically to support play as one of the noble, passionate, and ultimately tragic Knights of the Round Table. In the comprehensive RPG.net Game Index of over 17,600 tabletop RPGs, King Arthur Pendragon ranks #5. Pendragon is a rarity in the roleplaying world, a work of authentic scholarship.
This resurrected offer gave you everything you need for a campaign of glory and chivalry in Arthurian Britain — including the spectacular 85-year Great Pendragon Campaign. Our starter collection included these four titles (retail value $45):
King Arthur Pendragon (retail price $20): The most current (Edition 5.1) version of the classic core rules, published by Nocturnal Media, for playing knights in Arthurian Britain.
Book of Knights & Ladies (retail $20): Advanced character generation. Create knights and ladies from 100 different places in Britain or ten foreign lands, and from a dozen religions.
Book of Records Volume 1 – Knights (retail $5): Form-fillable, auto-calculating .PDF character and estate sheets.
The Grey Knight (retail $3): One of the finest Pendragon adventures, this 1986 evocation of "Sir Gawain and the Green Knight" was written by Masks of Nyarlathotep designer Larry DiTillio.
Those who paid more than the threshold price (starting at $22.95) got our complete collection of SIX bonus supplements worth another $84 — including one new to this revival:
The Great Pendragon Campaign (retail $25): Greg Stafford's masterpiece — a multi-generation saga with over 100 adventures across 85 years, stretching from before Arthur is conceived to beyond his death.
Book of Battle 2nd Edition (retail $25): Rules for large-scale combat, a key part of Arthurian legends. Now your knight can stride into battle and turn the tide!
Book of Armies (retail $20): Details of all the armies in The Great Pendragon Campaign and many more, and of battles important in the legends.
Tales of Chivalry & Romance (retail $6): Five short adventures examining the knightly code of chivalry and the high art of romance.
Pendragon Gamemaster Characters (retail $2): Stats for all the important characters from The Great Pendragon Campaign and more.
NEW in this revival! Tales of Magic & Miracles (retail $6): Adventures in fantastic and holy realms, including a prelude to the Grail Quest. (And if you bought this offer during its original June run, you receive this new title automatically.)
If you paid full price for all these .PDFs, you'd spend $131! Ten percent of each payment was split evenly between two charities chosen by Stewart Wieck of Nocturnal Media, publisher of King Arthur Pendragon: Conservation International and Worldreader.