Indie Cornucopia +4
Wednesday 23 November 2016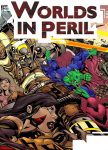 In November 2016 we presented the all-new
Indie Cornucopia +4
, the fourth annual installment in our Thanksgiving series of offers featuring recent top-quality small-press tabletop RPGs. This time out we had major new games like
Worlds in Peril, Baker Street,
and the new edition of
The Ninja Crusade
; Kickstarter successes like
Fellowship
and
Goblin Quest
; and Jonathan Green's stupendous coffee-table book about the
Fighting Fantasy
gamebook series,
You Are the Hero
.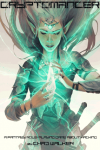 There were 
four
titles in our
Starter Collection
(retail value
$52)
:
Cryptomancer (Land of NOP, retail price $10): Fantasy meets information security in this huge game of magical hacking.
Stalker RPG (Burger Games, retail $12): Finnish designer Ville Vuorela's SFRPG based on the Strugatsky Brothers' novel Roadside Picnic.
Mortal Coil (Galileo Games, retail $10): Brennan Taylor's seminal 2008 story game of collaborative magic and the supernatural.
Goblin Quest (Serious Business, retail $20): Play five inept goblins (probably in quick succession) in Grant Howitt's mayhem-filled cross between PARANOIA and Itchy and Scratchy.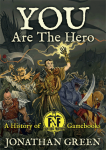 Those who paid more than the threshold (average) price
also
got our entire
Bonus Collection
with
five
more titles (retail value
$79):
Worlds in Peril (Samjoko Publishing, retail $15): Superhero roleplaying Powered by the Apocalypse.
Baker Street: Roleplaying in the World of Sherlock Holmes (Fearlight Games, retail $20): A very inventive game of Victorian mystery and investigation.
Fellowship (Liberi Gothica Games, retail $16): Inverse World designer Jacob Randolph brings us this Dungeon World variant of heroes journeying to defeat an Evil Overlord.
The Ninja Crusade (Third Eye Games, retail $15): Eloy Lasanta's new edition of high-flying Wu Xing martial-arts action.
You Are the Hero: A History of Fighting Fantasy Gamebooks (Snowbooks Ltd, retail $13): Jonathan Green's exhaustive and gorgeously illustrated chronicle of the 1980s gamebook craze.
That's a
US$131
retail value! Ten percent of each payment (after gateway fees) went to this offer's designated charity,
Human Rights Watch
.