Rifts!
Tuesday 18 July 2017
Earth: a world plagued by dimensional anomalies and portals to otherworldly environments — where fractures in space and time tear through reality and open doors to supernatural realms, strange dimensions, and alien worlds. It's
Rifts
® from
Palladium Books
— and in July 2017 we presented an all-new
Rifts® Bundle
!
Centuries in the future, when magic energy came flooding back to Earth, it became a world plagued by dimensional anomalies and portals to otherworldly environments. From these portals emerge mythical gods and Elemental creatures, hordes of demons and monsters, dragons and creatures of magic, Shadow Beasts and the undead from dimensions of darkness, and aliens from countless realms. The Rifts appear where two or more lines of magic energy intersect to create a nexus point where magic and dimensional forces converge and create tears in reality to countless other worlds, dimensions and realities.
Earth itself has become an alien landscape where the people, cultures, technologies and madness of countless alien worlds and realities collide with our own. It is an environment simultaneously familiar and alien, wondrous and horrifying. The magical, supernatural, and alien may come to you, or you may find them. Technology and science co-exist and clash with magic and psychic power. Robot warriors and power-armored troops battle dragons, demons, and magicians. The setting is one of constant change, conflict, horror, wonderment, magic, and endless possibilities.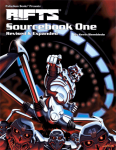 Our
Starter Collection
 included the complete 384-page
Rifts® Ultimate Edition
™,
Primer
,
Sourcebook One
™, and
Game Master Kit
. After launch we added the
Game Master Guide
(retail $13.50), the essential 360-page equipment collection.
Those who paid more than the threshold price 
also
got our entire
Bonus Collection
worth an additional
$87,
with three World Books (
Juicer Uprising
™,
Psyscape
™, and
New West
™) and the location book
MercTown
™. We added a
lot
after launch: 
Machinations of Doom
™ (retail $9.50), an epic 70-age graphic novel by Ramon Perez plus 46 pages of gaming material by Kevin Siembieda; the
Book of Magic
(retail $27), a 360-page compendium of all things supernatural from spells to tattoos to Iron Juggernauts; and 
Tales of the Chi-Town 'Burbs
™ (retail $6.50), a fiction anthology by Kevin Siembieda and a host of Palladium writers.