Shadows of Esteren – TWO offers
Tuesday 24 October 2017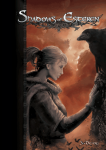 The 2017 "October Horrors" sequence concluded with
two
offers featuring the beautiful European RPG of medieval gothic horror,
Shadows of Esteren
. First, we resurrected our February 2016
Shadows of Esteren Bundle
with the core rulebooks and early supplements
.
Second, the all-new companion
Esteren Bundle +2
presented all the recent supplements, scenarios, soundtracks, and more, including —
in its public debut
— the long-awaited
Esteren
campaign book,
Dearg
. Together these two offers encompassed the entire
Esteren
line —
everything you need
for low-fantasy fear and intrigue on the Tri-Kazel Peninsula.
Originally published in French in 2010, presented here in an elegant English translation,
Shadows of Esteren
conjures a subtle, moody atmosphere inspired by
Nausicaä
,
Princess Mononoke
, Tim Burton's
Sleepy Hollow
, and the Kentaro Miura manga
Berserk
. And wait until you see the breathtaking artwork that adorns nearly every page of
Esteren
. Few RPG lines have enjoyed such brilliant presentation. In September 2013
Shadows of Esteren Book 1 – Universe
won three ENnie Awards for Best Interior Art (Gold), Best Production Values (Gold), and Product of the Year (Silver).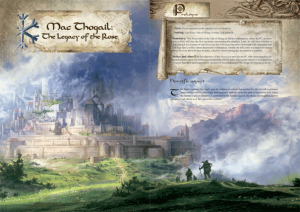 Esteren
is a multimedia creation. Members of the Esteren creative team, Forgesonges Collective, not only design and illustrate the RPG books; they also compose and perform atmospheric music, such as a
live symphonic concert in the Grand Temple in Lyon, France, November 30, 2013
. There's even a licensed
Esteren
pixel-art puzzle game for iOS and Android (
Esteren: Clutches of the Sorcerer Lord
) and a board game.
Since its first, spectacularly successful Kickstarter in summer 2012, publisher Agate Éditions has run six crowdfunding campaigns for
Esteren
rulebooks, supplements, and music, raising a total of US$500,000 from more than 4,000 backers. Collectively the
Esteren
RPG series holds the crowdfunding record for a French creation. These two offers presented practically everything those campaigns funded — the books, music, and more — even recipes!
1. Shadows of Esteren Bundle [revived from Feb 2016]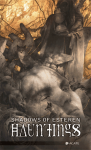 If you're new to
Shadows of Esteren,
start with the books in this revived collection. There were 
five
titles in this offer's
Starter Collection
(retail value
$40)
as DRM-free .PDF ebooks:
Those who paid more than this offer's threshold (average) price 
also
got this offer's entire
Bonus Collection
with
four
more titles worth an additional
$47:
2. Esteren Bundle +2 [all-new]
The
all-new
Esteren Bundle +2
companion collection marked the
public debut
of the long-awaited Book 3 of the
Shadows of Esteren
series,
Dearg.
Funded in a spectacular
October 2016 Kickstarter campaign
,
Dearg
, the massive
Esteren
campaign book, puts your player characters at the heart of a story of love, despair, beauty, and death. This offer also included recent
Esteren
titles from the
December 2014 Occultism Kickstarter
.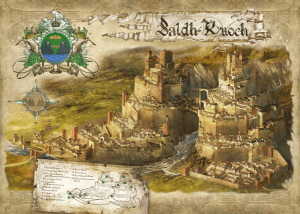 There were 
three
titles in this offer's
Starter Collection
(retail value
$30)
, including
Cartography of Tri-Kazel
(retail price $15), with detailed full-color maps and heraldic arms for five major cities; the
RISE
soundtrack of atmospheric music (retail $10) in both .MP3 and lossless FLAC audio formats; and
Esteren Culinary Journey
(retail $5), a three-course menu with actual recipes for a delectable Tri-Kazelian meal.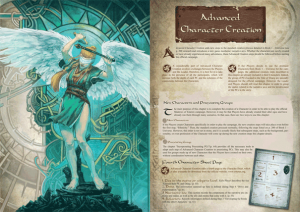 This offer's entire
Bonus Collection
had 
three
more titles worth an additional
$50:
Esteren Book 3: Dearg (retail $20): At long last, the epic Esteren campaign book. (Note: The current beta version of Dearg lacks the first eight pages — the title page, credits, and introduction. We'll post the complete version before this offer ends, and all customers get the updated version automatically.)
Occultism (retail $20): A sourcebook of Tri-Kazel's esoteric mysticism and a long investigation, "A Tidy Room."
Dearg soundtrack (retail $10): Fifteen .FLAC tracks of symphonic music composed especially for the Esteren campaign.
Ten percent of each payment (after gateway fees) went to these two
Esteren
offers' designated charity, the
Environmental Defense Fund
.