Mutant: Year Zero – Roleplaying at the End of Days
Monday 23 July 2018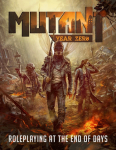 In July 2018 we presented the
Mutant: Year Zero Bundle
featuring the post-apocalyptic SFRPG
Mutant: Year Zero – Roleplaying at the End of Days
from
Modiphius Entertainment
.
Mutant: Year Zero
extends a long and rich tradition in its Zone of origin, Sweden. The first version of
Mutant
was released by Target Games in 1984, the Golden Age of RPGs in Sweden. Of several versions since then, one evolved into the hugely popular
Mutant Chronicles,
which we presented in June 2017.
Year Zero,
developed by the
Free League
design studio (
Tales From the Loop, Coriolis,
and the forthcoming
Forbidden Lands
), was published in 2014 in both Swedish- and English-language versions, and became an instant hit.
Year Zero
goes back to the origins of the
Mutant
franchise: roleplaying after the Apocalypse. You're one of The People — heavily mutated humans living in The Ark, a small and isolated settlement in a sea of chaos. You know little of the wasteland outside — the Zone — and nothing of your own origin.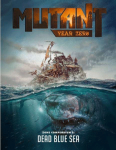 Mutant: Year Zero
has two major game environments, each with its own style of play. The Ark, your home in the dawnworld, is a nest of intrigue and
Lord of the Flies
-style power struggles. Though not a safe haven, it's the only home you know, and maybe the cradle of a new civilization. The game rules let you improve and develop the Ark's defenses, food supply, technology, and culture. You'll also venture into the Zone in search of food, artifacts, other mutants, and knowledge — not least about The People's own origin. The Zone's location is up to you — why not play in a post-apocalyptic version of your own home town?
Year Zero
's modular approach lets you place all the campaign material wherever you like. The core rulebook presents two example Zones — London (The Big Smoke) and New York City (The Dead Apple) — and the supplements in this bundle introduce many new Zones.
This bargain-priced offer presented the entire English-language
MYZ
line published to that time, including the first expansion,
Mutant: Genlab Alpha,
a standalone RPG about mutated animals.
Genlab Alpha was successfully Kickstarted in January 2016
and released in July 2017. (A second
MYZ
expansion,
Mechatron – Rise of the Robots
, appears later in 2018.)
There were 
four
titles in our
Starter Collection
(retail value
$39)
as DRM-free .PDF ebooks, including the complete full-color 269-page
Mutant: Year Zero core rulebook
, two
Zone Sector
location mini-supplements (
The Doom Sphere
and
Denizens of the Sink Hole
), and the full-color
MYZ Gamemaster Screen
.PDF.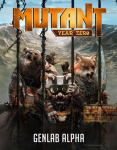 Those who paid more than the threshold (average) price 
also
got our entire
Bonus Collection
with
four
more titles worth an additional
$40.50.
Play mutated animals using the
Genlab Alpha
standalone companion rulebook (including the
Zone Compendium
supplement
"Die, Meat Eaters, Die!"
), and expand your personal Zone with the other two
Zone Compendium
books:
Lair of the Saurians
and
Dead Blue Sea
.
Ten percent of each payment (after gateway fees) went to the charity chosen by Chris Birch of Modiphius Entertainment,
Vision Rescue
. Chris says, "Our goal is to raise US$20,000 for a Vision Rescue Bus, one of the projects the charity uses to help combat child slavery in India."