City of Mist
Monday 30 August 2021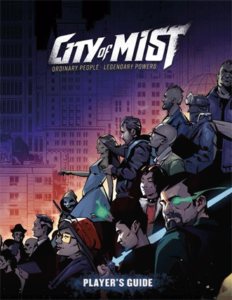 In August 2021 we presented the
City of Mist Bundle
featuring
City of Mist
, the comic-book epic-myth neo-noir detective RPG from Son of Oak Studio about ordinary people with legendary powers who search for truth in a mysterious metropolis.
In
City of Mist,
myths and legends are born into modern-day people. Hardboiled detectives and cunning mob lords hold the mythic powers of characters like Alice in Wonderland, the Monkey King, and Gilgamesh. This City is teeming with strange places infused with modern mythology, Mist-shrouded alleys lead to cavernous fairy halls. Legend-powered villains, crooks, and psychos like the Snow Queen, Jade Emperor, and Gingerbread Witch run rampant.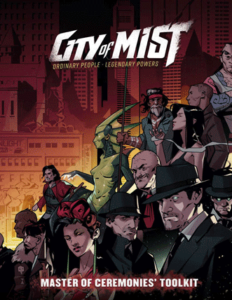 Your
City of Mist
character is a one-of-a-kind combination of a myth, legend, or fairy tale with a modern-day walk of life — detective, vigilante, homemaker. Described using tags, your abilities, gear, and personality are completely unconstricted by fixed lists of classes, powers, or attributes. Whether you play a cynical private eye or a back-alley hero wannabe, it's up to you and your crew to unravel the mysteries and conspiracies hidden behind the Mist, a mystical veil that prevents the unwitting City residents from seeing legendary powers. Face off against other modern-day legends, even while you struggle to balance everyday life with the Mythos inside you.
Using a simple but powerful narrative system, skillfully adapted from the
Apocalypse Engine
, along with custom tag-based motivation and advancement rules,
City of Mist
combines the super-detective mood of
Daredevil
and
Jessica Jones
with mythic themes out of the
Fables
comics and Neil Gaiman's
American Gods
. The excellent
City of Mist website
has
lots of background
,
free downloads
,
how-to-play videos
, and
reviews
— including a nice November 2020 video review by Bundle friend
Dave Thaumavore
.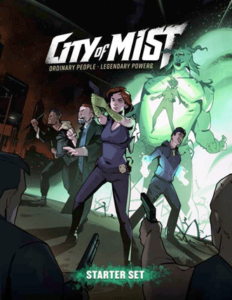 This bargain-priced offer presented the complete
City of Mist Player's Guide
and
MC Toolkit
core rulebooks (funded in a big
August 2018 Kickstarter campaign
), the
Starter Set
(from a
November 2019 Kickstarter
), and many sourcebooks and cases —
everything you need
for a complete urban fantasy campaign in the mean streets of this haunted city. There were 
five
titles in our
Starter Collection
(retail value
$75)
as DRM-free .PDF ebooks, including the introductory
All-Seeing Eye Investigations Starter Set
, the complete
City of Mist Player's Guide
and
MC Toolkit
core rulebooks, ten full-color
Location Maps
, and the
MC Screen
.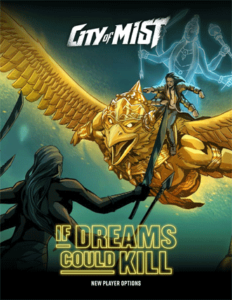 Those who paid more than the threshold (average) price 
also
got our entire
Bonus Collection
with
nine
more titles worth an additional
$88,
including the player options rules expansion
If Dreams Could Kill
, the Council of Avatars sourcebook
Don't Believe the Truth
, the three-case story arc
The Personal Vein
(
Broken Glass
,
Carnival of Machines
, and
Killing Her Softly
), three District mini-sourcebooks (
Independence
,
La Colonia de Sombras
, and
Tourist Trap
) and the five-track
City of Mist Soundtrack
.
Ten percent of each payment (after gateway fees) went to this
City of Mist
offer's pandemic-related charity,
Direct Relief
. Direct Relief gets protective gear and critical care medications to health workers, with emergency deliveries to medical facilities across the US and to regional response agencies across the world.